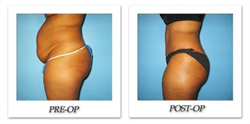 Many women find that pregnancy affects their bodies in ways that even the best Instagram filter can fix.
Los Angeles, CA (PRWEB) December 23, 2015
While the glamourous looks of celebrities have longed served as inspiration for patients pursuing cosmetic procedures, plastic surgery group Beverly Hills Physicians explains that this practice is becoming especially more common thanks to the advent of social media. As reported by a December 7th article on People.com, multimedia personality and new mom Coco Austin recently shared a picture to her 1.6 million Instagram followers that showed her stunning post-baby body just days after giving birth. Beverly Hills Physicians (BHP) explains that it is not uncommon for women to be inspired by these incredible post-baby celebrity transformations that seem to happen so effortlessly. Yet, they note that many women find that pregnancy affects their bodies in ways that even the best Instagram filter can't fix. For this reason, BHP explains that the group of procedures known commonly as a "Mommy Makeover" is becoming increasingly more common. According to the surgeons at BHP, the Mommy Makeover is meant to address several key concerns that women have after having children:

Sagging Breasts – BHP explains that, after pregnancy and breastfeeding, many women find that their breasts are less firm and shapely than they were before their procedure. While caring for their baby is surely the most important consideration during its infancy, many women go to BHP wondering if there is a way to properly care for their child but still return to their pre-pregnancy form later on. BHP explains that, for women who have equally large, yet sagging breasts after breastfeeding, a breast lift may be the perfect choice. They also note that others, who want to regain some perkiness or simply find that their breasts look deflated, often choose breast augmentation.
Loose Skin – According to BHP, the other area where women are commonly unhappy with after childbirth is the loose skin that often accumulates around the midsection. BHP explains that, as the stomach area expands drastically during pregnancy, and then rapidly contracts after the baby is born, the midsection rarely maintains the firmness it once had. BHP explains that, for this reason, mothers often turn to the tummy tuck procedure, which can help women reclaim a flat midsection by removing excess skin and fatty tissue.
The procedures involved in a Mommy Makeover are just a few of the many cosmetic surgeries that Beverly Hills Physicians successfully performs for their patients every year. For more information about these procedures and others, call the medical group today at 800-788-1416, or visit BHP online at http://www.BeverlyHillsPhysicians.com.