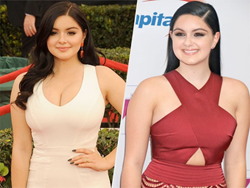 The primary intention of the procedure….is to restore balance to the patient's body as well as to bring about overall improved bodily comfort.
Los Angeles, CA (PRWEB) May 09, 2016
While breast augmentation remains the most sought-after type of plastic surgery procedures, a growing number of women are actually having their natural bosoms sized down. A recent blog post published April 26th on The Huffington Post explores one woman's search for a breast reduction procedure. The writer, Jordan Hernandez, noted that, when she got word that she would finally be undergoing the procedure after desiring it for many years, it was "the happiest news of [her] life." In the blog post, she explains that, following the surgery, she's experienced a renewed sense of self-confidence, and is thankful for the ability to run outside freely and comfortably, as well as being able to finally wear clothing that is more flattering to her overall shape and body proportions. According to Southern California-based medical and beauty center, Beverly Hills Physicians (BHP), this sentiment corresponds with that of a great many of the group's breast reduction patients.
The medical group explains that, because a handful of female celebrities including Modern Family's Ariel Winter, as well as Roseanne Barr and Queen Latifah before her, have gone public with their decision to elect a breast reduction, more and more women are becoming aware of the procedure's numerous benefits. While numerous women desire larger, fuller breasts, a great many well-endowed women find their large breasts to be out of proportion with their bodies, and even a source of pain and discomfort in the back, neck, and shoulders, BHP notes. The primary intention of the procedure, as BHP explains, is to restore balance to the patient's body as well as to bring about overall improved bodily comfort. Oftentimes, because excessively large breasts may be a source of unwanted attention, a breast reduction procedure can help to improve self-esteem in a young woman.
Even men have benefitted from a variation of this procedure, BHP explains. Some males struggle with a condition known as gynecomastia, which is characterized by enlarged male breasts. Men who have these may feel shy or embarrassed if they believe their bodies appear effeminate, and they will avoid swimming and other activities in order to hide them, BHP notes. Fortunately, as BHP explains, skilled plastic surgeons can readily improve a man's comfort with his appearance through a male breast reduction procedure.
For any procedure, outstanding care is always the highest possible priority at BHP. For additional information on the successes Beverly Hills Physicians and their patients have achieved, or to schedule a consultation, interested readers are encouraged to call BHP at 800-788-1416 or visit the medical group online at http://www.BeverlyHillsPhysicians.com.