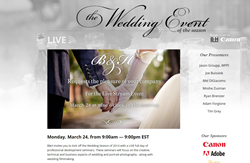 "Wedding Event of the Season," A Special B&H Photo Live and Streaming Presentation - March 24, 2014
NYC, NY (PRWEB) March 18, 2014
B&H Photo invites photographers to kick off the Wedding Season of 2014 with a LIVE full day of professional development seminars. These seminars will focus on the creative, technical and business aspects of wedding and portrait photography, along with wedding filmmaking.
Save this date for an experience that will enhance the wedding photographer's work flow, or jump-start a wedding-shooting career. It is rare that this level of talent is gathered in one place, let alone offered free of charge. B&H Photo is proud to offer the 'Wedding Event of the Season,' continuing to serve as "The Professional's Source."
"Wedding Event of the Season," a Special B&H Photo Live and Streaming Presentation - March 24, 2014
Watch live from the comfort of your studio and ask questions from the guest speakers using #BHWedding.
Bookmark BandH.com/wedding or just visit the B&H Photo website on March 24 .
Attend Live in New York City:
Join the B&H Photo Wedding Event at the New Yorker Hotel for the morning or afternoon session—or even both!
The Wedding Event of the Season - Morning Session: "Creative Inspiration," sponsored by B&H Photo & Canon:
Time: Monday, March 24, 2014 | 9:00 AM - 3:00 PM
Speakers: Jason Groupp, Joe Buissink, Mel DiGiacomo
Event Type: Photography, Lighting, Video
Location: The New Yorker Hotel Grand Ballroom
Keynote: 'State of the Industry and Trends' with WPPI's Jason Groupp, 'Capturing the Moment' with Joe Buissink, 'Capturing the Emotion' with Mel DiGiacomo
Afternoon Session: Technical and Technique
Time: 3:00 PM - 9:00 PM
Speakers: Adam Forgione , Moshe Zusman, Ryan Brenizer, Tim Grey
Event Type: Photography, Lighting, Video

'Wedding Video Integration Using Canon Digital Cinema,' with Adam Forgione
'Perfect Portrait, Venue Lighting and Posing,' with Moshe Zusman
'Balancing, a Sustainable Business with Creative Drive,' with Ryan Brenizer
Special Bonus Evening Session:
'Simplified Workflow for the Wedding Photographer in Adobe Light Room 5,' with Tim Grey
Featured Speakers
Ryan Brenizer is one of the most in-demand photographers in New York City, shooting over 60 weddings a year, as well as photographing some of the city's most prestigious events. As a photojournalist, he has covered three U.S. Presidents, the Pope, numerous foreign leaders and celebrities, and his work has been published in the New York Times, Newsweek, PDN, Time Out New York, and more.
Moshe Zusman is rounding out a decade of professional wedding photography. During that time he has done hundreds of wedding, event, corporate, portrait and fashion shoots in the Washington, D.C. area and worldwide. Moshe is recognized for innovative use of lighting and color, with a distinctly modern edge. He is an instructor at Boston University's Center for Digital Imaging Arts in Washington, D.C.
Adam Forgione is regarded as one of the top event filmmakers in the world. Founder of Pennylane Productions based in New York, he was voted "one of the top event filmmakers in the world" by EventDV magazine. In 2011 Canon hired Adam to direct a promotional film for CES in Las Vegas featuring DSLRs in weddings.
About B&H Photo Video
As the world's largest source of photography, video and audio equipment, B&H Photo-Video is known worldwide for their attentive, knowledgeable sales force, and excellent customer service, including fast, reliable shipping. Visitors to the website can access a variety of enlightening articles and educational videos. B&H has been satisfying customers worldwide for 40 years. http://www.bhphotovideo.com/.
When in New York, take a tour of the B&H Photography SuperStore located at 420 9th Ave. The expo continues all year round at B&H, in the camera kiosks. Featuring the newest cameras, the kiosks are manned by manufacturer representatives who are there to guide and demonstrate the latest photographic technology. With hundreds of products on display, the B&H Photo SuperStore is the place to test-drive and compare all the latest photography gear.