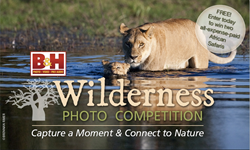 NYC, NY (PRWEB) October 29, 2013
B&H Photo Video and Wilderness Trust announce the Wilderness Photo Competition.
This photo competition is an industry first, with two ways to win—a judged vote from a panel of wildlife photography experts, and a people's choice popular vote. The prizes include all-expense-paid safaris for two, including airfare from NYC or Washington, DC to Wilderness camps in Botswana or Namibia, plus B&H Gift cards valued at $500.00. What makes this contest ground breaking is that it is free to enter, and the prize packages are valued over $42,000.
Keeping an eye on conservation, the Wilderness Photo Competition allows photographers across the globe to capture a moment and connect to nature. The Wilderness Wildlife Trust supports a wide variety of projects in Southern Africa, within the categories of wildlife management, research and education. These projects address the needs of existing wildlife populations, seek solutions to save endangered species, and provide education and training for local people and their communities. The goal of the Trust is to make a difference to Africa, her wildlife and her people.
B&H is making a strong statement by partnering with an institution so deeply indebted to conservation. By motivating the masses of photographers that B&H serves, it will increase awareness of the ecological issues facing Africa, and our planet by and large.
All photographers are encouraged to participate in the contest by entering their best images in nine different categories, including: mammals, aquatic, culture, landscape, conservation, birds, amphibians & reptiles, macro flora/insects and animals in zoos and captivity.
The B&H Wilderness Photo Competition has an illustrious panel of judges, including Scott Kelby, David Cardinal, Dana Allen, Mike Myers, Michael Poliza, Martin Benadie, Peter McBride, and Ron Magill.
The contest is currently accepting images, and will run until January 14th.
On December 31st at 1:00 pm, the B&H Event Space in NCY is hosting a special lecture from contest judge David Cardinal, "Creating Award-Winning Photographs & Getting Started in the B&H Wilderness Photo Competition." View here for more details: http://bhpho.to/1gMIXfP.
Visit the B&H Photo Wilderness Competition website: http://wildernessphotocompetition.com/.
Two Ways to Win African Safaris: SAFARI to BOTSWANA for Two Valued at $22,000 USD.
The B&H Event Space is a leading-edge learning environment designed to educate, inspire, and cultivate a community of like-minded individuals, who aspire to be great at what they love to do. By offering free workshops and lectures in photography, video and pro audio, it is B&H Photo's mission to help those in this community achieve their goals.
The B&H Event Space partners with major photography manufacturers in the imaging industry and academic institutions in the arts to produce a wide range of workshops and seminars covering a vast spectrum of topics. B&H "Mavens," employees who are experts on a specific topic, teach classes in the Event Space. On Sundays, high-profile and emerging photographers, as well as industry professionals, deliver inspirational lectures about their work and spin their personal tales of success.
About B&H Photo Video
As the world's largest source of photography video and audio equipment, B&H Photo-Video is known worldwide for their attentive, knowledgeable sales force, and excellent customer service, including fast, reliable shipping. Visitors to the website can access a variety of enlightening articles and educational videos. http://www.bhphotovideo.com/