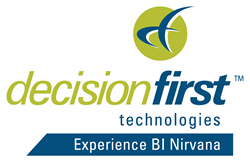 DFT announces a unique BI program that delivers real-time analytical reporting in just 90 days for SAP ECC customers.
Atlanta, GA (PRWEB) June 09, 2014
In a first-of-its-kind Business Intelligence initiative, Decision First Technologies (DFT) announces a unique BI program that delivers real-time analytical reporting in just 90 days for SAP® ECC customers. DFT's BI Nirvana in 90 Days Analytics Offering delivers a real-time analytics platform, access to identified areas within the customer's ECC environment, customized analytical views for specific business processes, custom visualizations and reports, mobile analytics and more. The offering bundles Cisco® hardware, SAP's HANA Platform, SAP BusinessObjects™ and DFT services which can be implemented on-premise or in the cloud depending on the customer's strategy. This solution puts customers in control of company performance, allowing them to pinpoint areas of concern immediately and get back on track quickly.
Launched in March 2014, BI Nirvana in 90 Days for Suite on HANA was an immediate success at the SAPinsider BI and HANA 2014 conference in Orlando. From there, interest grew as DFT customers like Textile Rubber and Chemical Company realized tremendous cost savings and a simplified IT landscape by implementing this solution. Today, BI Nirvana in 90 Days is poised to help customers who need real-time access to financial, operational and sales information that thought it was too complex or costly to justify. Leveraging tailored visualizations from SAP BusinessObjects, customers will know immediately how their company is performing and be able to inspect orders, financial transactions, or customer records, all in real-time.
"Until today, real-time operational reporting has been a dream of many organizations. Being able to identify and manage high level metrics and compare these results to goals, prior years, and acceptable thresholds required nightly refreshes that would yield yesterday's data without the ability to identify individual orders, transactions, and notes within ECC," explains Steve Freeman, Vice President of Field Operations for Decision First Technologies. "With BI Nirvana in 90 days, we can leverage the power of SAP HANA and provide high level analysis but with the added benefit of drill down capabilities to identify those business drivers that are impacting these metrics. More importantly our clients can take action on those drivers in real-time to effect change in their organization, transforming their BI environment into a true competitive advantage".
For more information on DFT's BI Nirvana in 90 Days program including an upcoming webinar on June 12th, click here.
About Decision First Technologies
As a nationally recognized business intelligence authority, Decision First Technologies (DFT) delivers proven technical best practices and methodologies focused on user experience and adoption. An SAP gold channel partner and seven-time SAP BusinessObjects™ Solution Provider Partner of the Year, DFT has earned the respect of the BI community by providing proven SAP-based solutions for analytics, EIM, data warehousing, and the SAP HANA platform to over 1,000 customers globally. Our recognized thought leaders share their expertise through speaking events, industry publications and authoring books such as Implementing SAP HANA, a best-selling book from SAP Press. BI is not something we do, it's all we do. For more information on Decision First Technologies, visit http://www.decisionfirst.com
©2014 Decision First Technologies. All rights reserved. Decision First and DFT are trademarks of Decision First Technologies. SAP, SAP HANA, SAP Business Suite and all SAP logos are trademarks or registered trademarks of SAP AG in Germany and in several other countries. Business Objects, BusinessObjects, and the Business Objects logo are trademarks or registered trademarks of Business Objects in the United States and/or other countries. Business Objects is an SAP company. All other products and company names are trademarks or registered trademarks of their respective owners.