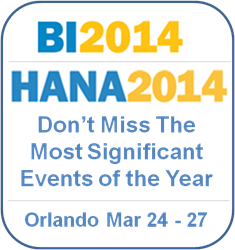 Bottom Line...if you're an SAP BusinessObjects or SAP HANA customer, you need to be at this event.
Atlanta, GA (PRWEB) February 10, 2014
Decision First Technologies™ (DFT), a nationally recognized Business Intelligence authority, is bringing its BI experts to one of the most noteworthy Business Intelligence events of the year. Several of their consultants who authored "Implementing SAP HANA", an SAP Press best seller, will be leading several breakout sessions as well as sharing their BI insights at the DFT booth. Additionally, DFT is providing up to $500 off the registration fee, further boosting the value its customers and associates will receive.
"This is going be the most focused technology event in 2014 exclusively dedicated to SAP Analytics & SAP HANA," said Taylor Courtnay, Co-founder and Vice-President of Sales. "I have personally been to the BI show for the past three years and the messaging is spot on. This year SAPInsider is adding SAP HANA as a co-located event. There's going to be a wealth of information, customer stories, BI/HANA experts on hand, use case examples, and sharing of tribal BI/HANA knowledge that all of our customers need to hear about. Bottom line…if you're an SAP BusinessObjects™ or SAP HANA customer, you need to be at this event."
BI 2014 delivers unsurpassed education for professionals that support SAP BusinessObjects BI and SAP NetWeaver® BW. HANA 2014 provides valuable sessions for organizations evaluating, implementing and optimizing SAP HANA.
Both events are co-located at the Walt Disney World Swan and Dolphin in Orlando, March 24th through the 27th, 2014. Basis and SAP Infrastructure will also be located in this same facility March 24th -27th making DFT's offer even more valuable. Sign-up for one event and attend sessions for any of the events.
"We have worked with Decision First Technologies at many past events, and we are excited they will be participating as a top level sponsor this year," said Rizal Ahmed, Executive Vice President, SAPinsider. "Their expertise in the BI and SAP HANA arena will add tremendous value to our show and to the attendees' experience. The authors of their book, Implementing SAP HANA, will be on-hand to lead several sessions as well as network with attendees."
To learn more about these conferences or to take advantage of DFT's conference rate, please visit, http://info.decisionfirst.com/BI2014HANA2014.html.
About Decision First Technologies
A nationally recognized Business Intelligence authority, DFT delivers proven technical best practices and methodologies focused on user experience and adoption. An SAP Gold Partner and 7X Partner of the Year, DFT has earned the respect of the BI community by providing proven SAP solutions for Analytics, Enterprise Information Management, Data Warehousing, and SAP HANA to over 1,000 customers globally. Our recognized thought leaders share their expertise through speaking events, industry publications and authoring books such as the SAP Press best seller, Implementing SAP HANA. For more information on Decision First, visit http://www.decisionfirst.com/.
About SAPinsider
SAPinsider, published by WIS Publishing, is the premier source of information on products, services, and strategic initiatives coming from SAP and its partners. More than 250,000 customers in 61 countries rely annually on education and training materials from WIS Publishing to optimize their investments in SAP solutions. WIS Publishing produces SAPinsider and insiderPROFILES magazines, the SAPexperts knowledgebases, and SAPinsider conferences and seminars. For more information, visit SAPinsiderOnline.com.
©2014 Decision First Technologies. All rights reserved. Decision First and DFT are trademarks of Decision First Technologies. All other products and company names are trademarks or registered trademarks of their respective owners.
###