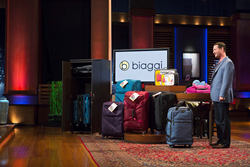 We have changed the way people will store and use luggage forever.
Brooklyn, NY (PRWEB) December 09, 2014
Opening ABC's Shark Tank episode on Friday, Biaggi CEO Stephen Hersh presented the world's first 4-wheeled foldable luggage.
Fed up of sacrificing his valuable storage and living space with bulky suitcases, entrepreneur Stephen Hersh set out to develop a luggage line featuring hinge-lock technology, allowing each piece to fold flat for easy storage. Hersh says, "The Biaggi foldable luggage collection is a game changer in the travel industry. We have changed the way people will store and use luggage forever. "
Struggling to educate the consumer on his new product, Hersh jumped at the opportunity for national exposure on Shark Tank and successfully reeled in warm-blooded shark Lori Greiner as a business partner.
ABC's Emmy-winning Shark Tank, offers entrepreneurs the chance to pitch start-ups to wealthy "Shark" investors. With a viewership of around 8 million households, Shark Tank is known for sending companies into the financial stratosphere, while bringing others crashing down.
Stephen Hersh, who is from Brooklyn New York, described appearing on the show as a risk worth taking. "I am thrilled about the partnership and Biaggi's new journey, as we continue to take luggage to places it has never gone before", said Hersh.
Biaggi's award-winning luggage and ingenious ZipSaks can be purchased at http://www.biaggi.com