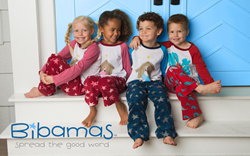 BIBAMAS Introduces First-Ever Bible Pajamas
Salt Lake City, UT (PRWEB) September 19, 2014
BIBAMAS, pronounced "by-bam-uhz," are the first-ever pajamas based on Biblical heroes. While polls show that Americans are losing faith in the Bible at a rapid rate, these pajamas can increase faith and help children look up to Bible heroes rather than just super heroes.
"Mommy, does Jesus have super hero powers?" asked Kellie Jeppson's four year old son. "Yes, as a matter of fact he does!" she said as she looked at him in his super hero pajamas. Kellie thought to herself, "How can I help him think more about Jesus and other Bible heroes? After all, real heroes don't wear capes."
While a great deal of money is spent every year by companies to manufacture clothing with a super hero theme such as Superman, Spiderman or Batman, until now there has not been a similar emphasis on Biblical heroes like Jesus, Moses, Esther and Jonah.
The same is true with Christmas pajamas featuring Santa, reindeer, and elves. Finally, children can now wear Christmas Bibamas that will help them remember that silent, holy night so long ago.
BIBAMAS, located on the web at http://www.bibamas.com, will help children think more about Bible characters and look up to these real-life heroes in the same way children look up to and emulate imaginary super heroes. Each pair of these powerful pajamas is designed to inspire faith, obedience, courage, and love in the children that will wear them.
To help complete the first production run of BIBAMAS, a crowdsourcing campaign has been started on Kickstarter.com at http://www.kickstarter.com/projects/2041310357/bibamas-first-ever-bible-pajamas.
Kickstarter is a way to fund creative ideas and uses an "all-or-nothing" funding method where projects must be fully-funded or the project will receive nothing. If Bibamas budget ($15,000 US) isn't raised before October 5th, all pledges will be cancelled.
BIBAMAS are currently made of 100% flame-resistant, polyester. The Christmas Nativity pajama bottoms are made of polar fleece for extra warmth and comfort. BIBAMAS are manufactured in a manner that meets all guidelines and safety regulations outlined by the US Consumer Product Safety Council.
BIBAMAS are available in sizes 12 months to 10 years. Sizes may vary depending on the child's individual measurements. BIBAMAS are made of high-quality construction, safe and comfortable for children.
For additional information, visit http://www.kickstarter.com/projects/2041310357/bibamas-first-ever-bible-pajamas; or the BIBAMAS website, http://www.bibamas.com.
Kellie Jeppson of BIBAMAS can be reached directly at info(at)bibamas.com or by telephone at 801-573-9151.