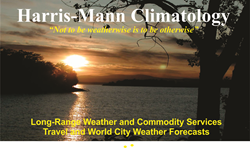 The book also points out some of the prophecies that seen to be starting to happen.
Coeur d'Alene, ID (PRWEB) January 25, 2016
A new book, "Weather and Bible Prophecy" (What Was...What Is...And What's to Come), was written by Climatologist and Author Cliff Harris of Harris-Mann Climatology. Due to its popularity, Harris-Mann Climatology has extended the discounted price of $9.95, a savings of $5, into February, which includes shipping to anywhere in the world.
Long-range weather forecaster and author, Cliff Harris, was recently featured on the Common Sense Show. His book has also been featured on other numerous radio programs including the TruNews Network, KHNC 1360 in Johnstown, Colorado, KFYO NewsTalk and Texas In the Know.
"Weather and Bible Prophecy" describes the scientific and spiritual approaches as to how the weather has played a major role in the Bible.
According to Harris, "The book also points out some of the prophecies that seen to be starting to happen. We're seeing increased terror attacks and heightened tensions in the Middle East. These events may lead to widespread conflicts, as described in the book. Another prophecy predicted the major stock market crashes within the last 6 months. As mentioned in the book, we've likewise seen disastrous floods, snowstorms, storms and droughts across the planet."
"Weather and Bible Prophecy" also features the fascinating effects of many long and short-term cultural and weather cycles. Long-term climate charts point to the planet's recent warming, but a much cooler cycle by 2020. Then, according to the chart in the book, global temperatures are expected to rebound in a big way in the 2030s.
Harris's many years of research indicates that many of these cultural and natural cycles are expected to collide by no later than 2038 that "may lead to great challenges for Mankind."
As co-owner of Harris-Mann Climatology (http://www.LongRangeWeather.com), Cliff Harris has provided a daily weather and commodity advisory service for nearly 37 years. It specializes in providing state of the art short and long-range weather analysis that is applied toward crop planning and commodity trading.
The company also recently announced the addition of the "Best Time to Visit or Travel" segments for over 200 major U.S. and world cities. Each page on the website contains a 30-second video and a specific long-range city weather forecast for the next 12 months. Harris-Mann Climatology also provides 12-month monthly temperature and precipitation forecasts for over 6000 locations across the globe.
"Weather and Bible Prophecy" is available in soft cover format and electronic version on Amazon. For more information on "Weather and Bible Prophecy," long-range weather forecasts, or contacting Cliff Harris, one can visit their website at http://www.WeatherProphecy.com.