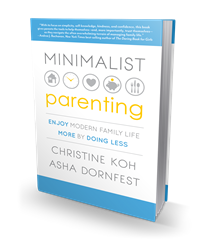 You can do less without having to sacrifice holiday traditions, or fun!
Boston, MA (PRWEB) December 13, 2013
The American Psychological Association reports that the holidays are often associated with increased levels of stress, stemming from financial concerns, time constraints, and family pressures. Here is a list of common holiday stressors:

Too many party invitations
Subpar decorations
Last-minute shopping
Cooking the "right" food
Proper attire
Family expectations
Budget constraints
Too many house guests
Worry that the holiday won't feel "special" enough unless it's celebrated with all the trappings
For the second year running, the authors of Minimalist Parenting are pleased to present their free holiday email series, Minimalist Holidays. Taking a leaf (or two) from their own book, Christine Koh and Asha Dornfest have created the series to ensure that the holidays are a time for rest and celebration.
The Minimalist Holidays series helps readers find their holiday calm by aiming to:

Shorten holiday to-do lists
Focus on what's most important about the holidays
Bring back the joy and fun for friends and family
The authors pull resources from their own parenting blogs, Boston Mamas and Parent Hacks. Email topics include great holiday tips and tricks, like:

DIY gifts for family and friends
Easy crafts for kids (for decorating or gifting!)
Simple menu items that are delicious and affordable
The series applies the "enjoying more by doing less" mantra of Dornfest and Koh's book Minimalist Parenting: Enjoy Modern Family Life More by Doing Less (Bibliomotion, 2013) The book brings a fresh approach to navigating the complicated world of parenting. It advises parents on how to tune into their family's unique values and priorities and takes them through strategies for managing time, de-cluttering the home space, simplifying mealtimes, and streamlining recreation.
Let Minimalist Holidays be the voice of calm and reason during the busy season. It is possible to do less without having to sacrifice holiday traditions, or fun.
The signup for the Minimalist Holidays is free and open through the series and can be accessed here. For more parenting tips and insights, click here to download a free sample chapter from Minimalist Parenting.