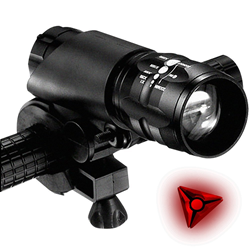 This bike light is the best accessory I have ever bought for my bike, period.
Los Angeles, CA (PRWEB) August 11, 2014
Divine LEDs, a lighting company that offers a wide selection of top-quality bike lights, flashlights and other products, has just announced the release of a new and innovative bike light. To celebrate the launch of the new bicycle light—which is available on the company's Amazon page—Divine LEDs is offering their customers a coupon code, PRS30OFF, which will save them 30 percent off. To redeem the coupon code, customers simply need to follow the instructions at this link: http://divineleds.com/proff.html.
As the information page on Amazon notes, http://www.amazon.com/Bike-Light-Amazon-Waterproof-Satisfaction/dp/B00KQSVRF8, the LED bike light attaches in mere seconds and does not require the use of any tools. It fits a wide variety of bicycles, from kids' bikes and mountain bikes to street cycles and more. Constructed with Divine LED technology, the bike light is also completely waterproof and can double as a flashlight.
As the founders of Divine LEDs know quite well, having a bike light is crucial for nighttime bicycle riding or in inclement weather when visibility is low. Sadly, many people have been injured because their bike was not properly lit and drivers could not see them before it was too late.
Described as the "best, brightest and the most effective bike light on Amazon," the LED light will help make bicycles more visible to others. As a bonus, the light comes with a 100 percent satisfaction guarantee, and for a limited time, customers will also receive a free taillight with their order.
"Too often we hear cyclists getting hit by cars, or trucks, or having road accidents because they were riding in the dark," a company spokesperson for Divine LEDs said, adding that in many cases, having a bright LED bike light could have saved their life.
"Our super-bright waterproof LED light will make visibility a breeze. You will be seen where other bikes wouldn't be and be protected where they wouldn't."
Anybody who would like to learn more about the new bike light from Divine LEDs is welcome to visit their Amazon page; there, they can read more about the high-quality and ultra-bright light, as well as the positive reviews from happy customers who recently purchased it.
"I can't believe how bright this light actually is," a customer wrote in a review. "This bike light is the best accessory I have ever bought for my bike, period."
About Divine LEDs:
Divine LEDs is a lighting company with the mission to light their customers' worlds up. They have a product selection of bike lights, flashlights and more. For more information, please visit http://divineleds.com/.