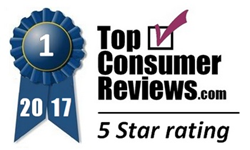 For all these reasons Bike Nashbar takes first place among sites offering Bicycle Parts for purchase online in 2017.
Overland Park (PRWEB) July 20, 2017
TopConsumerReviews.com recently gave a best-in-class 5 star rating to Bike Nashbar, a leader among Bicycle Parts stores.
Bicycling remains one of the most beloved recreational and fitness activities in the nation. From ever-expanding opportunities for trail riding, to kids getting their first set of training wheels, the need for quality Bicycle Parts has never been higher. Most local bicycle shops are few and far between. Even when one is available, the likelihood of finding the exact part needed is unlikely. With reduced overhead and access to huge inventories, online shopping for bicycle parts turns frustration into success. Prices become much more competitive, and hard-to-find brands and parts from all over the world become readily available with delivery straight to the customer.
"Bike Nashbar starts with an easy-to-use website, designed and operated by bikers," described Brian Dolezal of TopConsumerReviews.com, LLC. "Add to that a low-price guarantee good for up to 2 weeks after your purchase and a 100% satisfaction guarantee, and Bike Nashbar shoots to the head of the race for online bicycle parts dealers. In addition, they also have real people, who know about bikes, answering a helpline to assist with questions about the parts and accessories they offer. Then, Bike Nashbar finishes the race by adding years of experience, since the company has been operating since 1973. For all these reasons Bike Nashbar takes first place among sites offering Bicycle Parts for purchase online in 2017."
To find out more about Bike Nashbar and other Bicycle Parts dealers, including reviews and comparison rankings, please visit the Bicycle Parts category of TopConsumerReviews.com at http://www.topconsumerreviews.com/bicycle-parts/.
About Bike Nashbar
Offering customers the best cycling gear at the best prices has defined Nashbar since its inception in 1973. Arni Nashbar captured lightning in a bottle with the creation of Nashbar and that infectious spark continues to keep us energized each and every day. We love bikes, ride bikes, live and breathe bikes, endlessly tinker with bikes, or sometimes just stare at bikes. That passion and commitment fuels our search 'round the globe for the best values on cycling closeouts, discontinued items and exclusive models, plus the latest and greatest gear. Not merely content with being the low price leader in brands you know and trust, our Nashbar branded products stretch your dollars even further.
About TopConsumerReviews.com
TopConsumerReviews.com, LLC is a leading provider of independent reviews and rankings of hundreds of consumer products and services. From Bicycle Parts to Home Gyms and Exercise Bikes, TopConsumerReviews.com delivers in-depth product evaluations in order to make purchasing decisions easier.