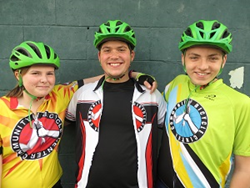 (PRWEB) June 14, 2014
The Law Offices of Joe Bornstein - Joseph L. Bornstein has donated hundreds of free helmets to kids in-need since 2012. This year, they are going the extra mile to protect kids' brains by providing free Scott Lin helmets, which employs the latest helmet technology. The helmets will be distributed through the Community Bicycle Center (CBC), a Biddeford youth development program that empowers youth through bicycles and bicycle-related experiences with a focus on youth considered "at-risk." Bornstein's donation will not only enable the youth nonprofit to continue offering free helmets to every kid who repairs and/or reconditions a bicycle at the CBC, but also provides the safest helmet possible to older youth embarking on longer rides.
The helmets use MIPS® technology, developed to reduce brain injuries. MIPS® is designed to protect against how most accidents occur with its own low-friction layer between the outer shell and liner to absorb the rotational impact created by an angled blow to the head.
Joe Bornstein, a cyclist himself, explained that he learned about the importance of bicycle safety during several 300 mile bike rides through Maine and the Maritime Provinces with his younger brother. Helmet use is estimated to reduce head injury by 85 percent, according to the Insurance Institute for Highway Safety.
The Law Offices of Joe Bornstein is a statewide practice that specializes in personal injury and Social Security Disability law. In over 40 years, the Law Offices of Joe Bornstein has helped more than 20,000 Mainers get the justice they deserve.
Youth eligible to receive a free helmet must be registered with the CBC's free youth development programs. For more information, please visit http://www.communitybike.net or call 282-9700.