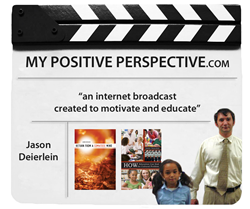 It's always a good day to take a bike ride.
Charleston, SC (PRWEB) April 01, 2014
On April 1, 2014, My Positive Perspective host Jason Deierlein was joined by Charleston Bicycle Company owner Brain Parks. The episode was recorded to give people a better understanding of the advantages that riding a bike has. At the start of the episode, Deierlein says, "My Positive Perspective thrives on helping local businesses and this episode is an excellent example of that."
Deierlein then turns to Parks and says, "Normally in Charleston, it's a good day to take a bike ride." Jokingly Parks says, "It is, it's always a good day to take a bike ride. Riding bicycles is not just great for your health but it's great for your community as well."Deierlein then asks Parks about some of the vendors whose bicycles they sell. Parks says to this, "There has been a bicycle shop here for over 40 years and that is no doubt due to our suppliers.
Parks continues, "We also service bikes, I would say that we are a great community oriented family bike shop. Jamis is the brand we carry, they're an American made business and they produce all sorts of bikes for all sorts of different people. Just like everything else the bicycle industry has gotten better and more specialized with what the customer wants."
My Positive Perspective is a media outlet believing that improvement in our community will be best achieved by focusing on the good things happening in our world today. Having survived a near fatal car accident as a youth, a shift of perception forced one to have a mentality of always concentrating on the brighter sides of things. This was true, and in my book, Return From a Comatose Mind, this belief was put to the test. Appreciation for life was the biggest thing one took away from my brush with death, and it is because of that gives me such a huge desire to be helpful to many. My Positive Perspective is a way of overcoming challenges through positive thinking.