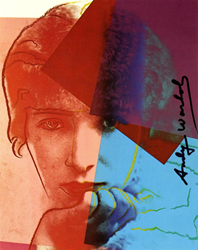 Each month, we hear from more artists and gallery owners looking to use the BNO.com platform to offer great works of art. - Nick Nassiri, founder
Los Angeles, CA (PRWEB) October 04, 2016
BNO.com, the world's first online live streaming interactive auction network, features exciting fine art, photography, classic cars and more in its weekly auctions. This October, BNO will feature works of art from such luminaries as Andy Warhol, Alex Echo, and concert poster art legend David Edward Byrd. BNO.com holds live streamed auctions each Tuesday, Wednesday and Thursday at 12 Noon PST featuring unique items at great auction prices.
"Each month, we hear from more artists and gallery owners looking to use the BNO.com platform to offer great works of art," said Nick Nassiri, Founder and CEO. "We continue to expand our inventory and auction offerings to provide bidders with truly unique opportunities."
This October, BNO.com will feature over 500 lots of Fine Art and Photograpy including:
Andy Warhol "Sarah Bernhardt"
Alex Echo "Newspaper Taxis Appear on the Shore"
Wassily Kandinsky "Montee et descente (Ascent and Descent)"
Jill Joy "Black Ice"
Julian Schnabel "Untitled"
Also in October, BNO.com will offer close to a thousand collectible classic, exotic, and luxury cars at auction.
"We work with collectors all across the country and Canada to feature the most diverse classic car collection possible," said Nassiri. "Everything from Corvettes to Ferraris can be found in BNO.com auctions."
Highlights from BNO's October Classic Car auctions include:
1963 Chevrolet Corvette Split Window
1998 Porsche Carrera 993 C2S
1997 Ferrari 550
1970 Dodge Challenger
1965 Porsche 911 Coupe
As a special thanks to BNO.com bidders, the company is also auctioning off a trip for two to Super Bowl LI, February 5, 2017, in Houston. The auction ends January 6, 2017, just weeks before the big game.