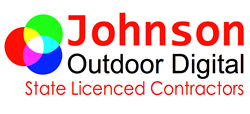 "We have been blessed with great customers that allow us to support West Michigan's economic growth." - Loni Johnson, President
Paris, MI (PRWEB) January 08, 2015
Johnson Outdoor Digital is changing their overall business strategy as the company enters 2015, shifting to a more locally oriented model. They hope to boost the local Grand Rapids/Big Rapids/West Michigan economy by using a direct sales approach focusing on local businesses.
This strategy shift also involves new faces. Richard Mate, the new Vice President of Johnson Outdoor Digital, recently came back to the organization following over a decade of experience in the auto and furniture industry. Loni Johnson, President of Johnson Outdoor Digital and son of founder Gary Johnson, recently stepped into his new role as well. This transition reflects the forward-looking attitude of the business, as well as their commitment to progress and innovation. The executive team, however, is committed to ensuring that customers still receive the same personalized, friendly customer service expected from the small-town business.
"We have been blessed with great customers that allow us to support West Michigan's economic growth," explains Loni Johnson. The company's strong presence in West Michigan has even caught the eye of new strategic partners. These partners aim to help achieve the company's overall business strategy while simultaneously expanding its presence. In addition, Johnson Outdoor Digital has taken on several high-profile clients from around the country, including the Georgia World Congress Center/Georgia Dome and the I-Play America Theme Park in New Jersey. The company plans to continue expanding their influence in the sign industry by targeting both on-premise digital signage and the large-format, billboard-style advertising that appears on roadsides throughout the country.
As Johnson Outdoor Digital grows and moves forward, they are also adopting new technology to reach and interact with their customers in fresh, convenient ways. The company is increasing their digital presence on both Facebook and Twitter, as well as adopting new strategies to reach more customers than ever before. Additionally, the company has recently undergone a complete rebranding, which includes the design of a new logo.
Despite having a strong product presence in their current digital products, the team at Johnson Outdoor Digital has plans to continue launching new products to provide customers with cutting-edge, state-of-the-art digital technology. To learn more about this and other changes within the company, please visit their website at johnsonsignco.com or contact the office at 231-796-8880. To visit in person, find them at 5555 E. 13 Mile Road, Paris, MI 49338.
With over 40 years of experience and service in the sign industry, Johnson Outdoor Digital provides custom and digital signs for businesses in Western Michigan and throughout the country. As technology advances, the company is proud to offer the latest in LED technology as well as traditional signage. A state-licensed and certified family-owned business, Johnson Outdoor Digital's commitment to customer service sets them apart.