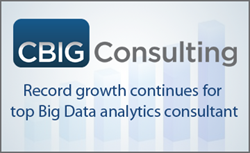 Chicago, IL (PRWEB) April 23, 2014
Big Data analytics expert CBIG Consulting continues to surge forward in terms of financial success in 2014, releasing earnings earlier this week that are up 30 percent over CBIG's 2013 Q1 revenues. CBIG spokesperson and Principal John Onder, cited prolific demand that now spans virtually all industries from companies that want to introduce new Big Data technology but first need to implement best practice solutions into their existing business intelligence environment.
Onder said that all of CBIG's current clients are highly motivated to take better steps to optimize their current business intelligence investment—with analytics—as they introduce Big Data technologies, primarily for storage and pre-processing. He added, "Businesses are now recognizing that introducing scalable analytics now will help in identifying and capturing the types of data they'll need as they keep a steady eye toward future BI expansions."
Onder mentioned that CBIG Consulting's increased revenues also reflect much of CBIG's focus in recent months on developing significantly leaner, pre-built methodologies to help enterprises gain rapid returns on their BI investment, involving less ETL-intensive, batch processes. Instead, he said, Lean BI and Lean Big Data solutions employ best-practice storage, data management, processing, and reporting procedures from a single-source data warehouse appliance (DWA) often integrated with Hadoop clusters to derive real-time intelligence. Onder said, "We're adding scalable business processes to existing systems so our clients can reap rewards much more quickly to maintain their competitive edge."
About CBIG Consulting:
CBIG Consulting is an international team of experts in Data Warehousing, Business Intelligence, Big Data Analytics, and Cloud-based Analytics platforms. Selected by independent research firm SourcingLine as well as CIO Review as a leading Big Data analytics consulting firm, CBIG consultants average fifteen years of direct experience in the field. CBIG works with global enterprises, mid-size businesses, and non-profit organizations in solving mission-critical reporting and analytical needs. CBIG is headquartered in the Chicago, IL area, and has additional offices in San Francisco, CA, Boston, MA, Denver, CO, Austin TX, Raleigh, NC and Sydney, NSW, Australia. For more information, please visit http://www.cbigconsulting.com.