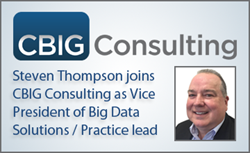 Chicago, IL (PRWEB) June 15, 2015
International Big Data and Advanced Analytics firm CBIG Consulting again expanded its brain trust with the recent hire of Big Data analytics authority and subject matter expert Steven Thompson. CBIG Principal Todd Nash noted Thompson's leadership and innovative work in engagements involving Business Intelligence, Big Data, Advanced Analytics, Cloud-based Analytics, and other growth technology areas.
Nash mentioned that Thompson's specialization in MPP databases, Predictive Analytics, Hadoop, High Performance Computing and massive parallelization also drew CBIG's attention. Nash said, "Having known Steve and his accomplishments for many years, my partners and I believe that with Steve coming on board, we've added extraordinary depth to our knowledge base."
Nash added that Thompson's previous work in various industry sectors, including healthcare, life sciences, financial services, and insurance, among others, resonate with—and even add to—the arsenal of vertical solutions CBIG is currently offering its clients. Areas Nash mentioned include sales, marketing and competitive intelligence analytics, as well as critical operations data metrics. "Steve has developed an exhaustive set of skills and experience at the executive level. His expert guidance in matching client expectations with practical solutions will really add to the value and longevity of our projects."
About CBIG Consulting:
CBIG Consulting is an international team of experts in Business Intelligence, Big Data Analytics, Data Warehousing, and Cloud-based Analytics platforms. Named a top BI and Big Data consulting firm by independent research organizations and publications, CBIG's analytics consultants average fifteen years of direct experience in the field. CBIG works with global enterprises, mid-size businesses, and non-profit organizations in solving mission-critical reporting and analytical needs. CBIG is headquartered in the Chicago area and has additional offices in San Francisco, Boston, Denver, Austin, Raleigh, and Seattle in the U.S.; Sydney, Auckland and Singapore serving the Asia-Pacific region; and London serving the United Kingdom. For more information, please visit http://www.cbigconsulting.com.