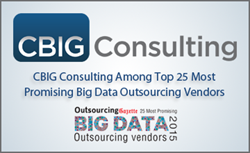 CBIG was selected due to its consistent thirteen year history of successful growth and innovation in the data analytics space.
Chicago, IL (PRWEB) April 15, 2015
Among the leading Big Data enterprises dominating the landscape in the data analytics industry today, international consulting firm CBIG Consulting stood out with a cover feature in the latest issue of Outsourcing Gazette magazine. The trade publication that focuses on issues relating to outsourcing technology selected CBIG Consulting for the cover of its issue that presents the magazine's 2015 picks for the "Top 25 Most Promising Big Data Outsourcing Vendors."
When notified CBIG was the cover story, CBIG's Founding Principal John Onder said, "We're honored to be acknowledged among the many talented firms in Outsourcing Gazette's Top 25, and also grateful our work is being recognized among our peers." When asked what sets CBIG apart, Onder noted, "I think CBIG was selected due to its consistent thirteen year history of successful growth and innovation in the data analytics space."
As an example of CBIG's willingness to push technical boundaries, Onder pointed to one of CBIG's latest advancements, which involves the use of lean analytic approaches. He said, "Our developments of leaner, abridged technologies still adhere to best practices. However, we've found a more streamlined way to integrate and analyze all types of data without the more traditional and cumbersome processing steps."
Stating that this pioneering breakthrough has been proven to reduce design and implementation costs as well as shorten time to market, Onder added that CBIG's current clients are realizing a number of tangible business goals including increased revenues, boosts in market share, and improved operational efficiencies.
About CBIG Consulting
CBIG Consulting is an international team of experts in Business Intelligence, Big Data Analytics, Data Warehousing, and Cloud-based Analytics platforms. Frequently named a top BI and Big Data consulting firm by independent research organizations and publications, CBIG's analytics consultants average fifteen years of direct experience in the field. CBIG works with global enterprises, mid-size businesses, and non-profit organizations in solving mission-critical reporting and analytical needs. CBIG is headquartered in the Chicago area and has additional offices in San Francisco, Boston, Denver, Austin, Raleigh, and Seattle in the U.S.; Sydney, Auckland and Singapore serving the Asia-Pacific region; and London serving the United Kingdom. For more information, please visit http://www.cbigconsulting.com.