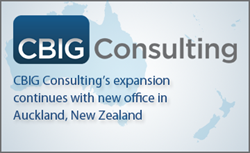 Chicago, IL (PRWEB) December 21, 2014
International big data / business intelligence firm CBIG Consulting continues its exploration further into the Southern Ocean region with the recent launch of its new office in Auckland, New Zealand. Confirming the arrangement, CBIG's Asia-Pacific Region Principal and General Manager Cameron Price said CBIG's latest successful advancements in Big Data and LeanBI initiatives have created a scenario in which customer demand is greatly surpassing expectations in the Asia-Pacific region.
CBIG's LeanBI solutions comprise more streamlined, agile approaches to building business processes around Big Data, with big advantages that include scalability, less cumbersome integration steps, and faster technology. Price believes these groundbreaking LeanBI service offerings in particular, embracing New Zealand's remarkable heritage of exploration and new discovery, can significantly benefit New Zealand companies in the future. Price, who calls himself a proud Kiwi, said, "I want to use Big Data as the new frontier, and am personally really excited about opening business in New Zealand. New Zealand companies have a tradition of innovation, and we are excited about where that innovation will take us, both in solutions and approach to the challenges and opportunities that Big Data represents."
Because CBIG is already working with several companies in New Zealand and building solutions that can be exported to the rest of the world, CBIG believes that creating a permanent, strategic location here could help place New Zealand indelibly on the map within this industry domain.
About CBIG Consulting:
CBIG Consulting is an international team of experts in Business Intelligence, Big Data Analytics, Data Warehousing, and Cloud-based Analytics platforms. Named a top BI and Big Data consulting firm by independent research organizations and publications, CBIG's analytics consultants average fifteen years of direct experience in the field. CBIG works with global enterprises, mid-size businesses, and non-profit organizations in solving mission-critical reporting and analytical needs. CBIG is headquartered in the Chicago area and has additional offices in San Francisco, Boston, Denver, Austin, Raleigh, and Seattle in the U.S.; Sydney, Auckland and Singapore serving the Asia-Pacific region; and London serving the United Kingdom. For more information, please visit http://www.cbigconsulting.com.