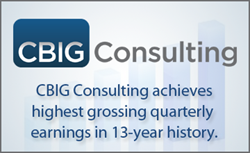 Chicago, IL (PRWEB) October 27, 2014
International Big Data / business intelligence firm CBIG Consulting confirmed this week that 2014's third quarter was its highest grossing period in CBIG's 13-year history. Co-founding Principal and spokesperson Don Arendarczyk cited current industry estimates that have annual IT spending on Big Data in the $50 billion dollar range as a contributing factor, adding, "As the economy slowly improves and businesses begin to increase their spending, it's clear that Big Data is a priority."
Arendarczyk said he and his partners agree that CBIG's growth strategy and niche presence within the Big Data analytics industry over the last several years helped put the firm in a unique position to take on some of this demand, noting, "CBIG's growing industry leadership and analytics expertise is substantiated by the growing number of firms that reach out to us on a weekly basis for support. Clients tell us we provide tremendous value to their efforts."
Arendarczyk emphasized a core tenet of their business approach involves a commitment to consistently growing CBIG's Big Data talent through training and also hiring data architects, developers, and strategists that can help the firm progress and evolve. Looking to the future, CBIG plans to continue servicing this demand by expanding its presence over the coming years in the markets it currently serves, and to further expand CBIG's presence in other strategic locations, both domestically and internationally.
About CBIG Consulting (CBIG):
CBIG Consulting is an international team of experts in Business Intelligence, Big Data Analytics, Data Warehousing, and Cloud-based Analytics platforms. Selected by prominent independent research firms and publications as a leading BI and Big Data analytics consulting firm, CBIG consultants average fifteen years of direct experience in the field. CBIG works with global enterprises, mid-size businesses, and non-profit organizations in solving mission-critical reporting and analytical needs. CBIG is headquartered in the Chicago area and has additional offices in San Francisco, Boston, Denver, Austin, Raleigh, and Seattle in the U.S., and Sydney serving the Asia-Pacific region. For more information, please visit http://www.cbigconsulting.com.