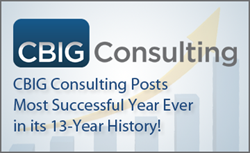 What's really encouraging is the consistency of our efforts. That 35 percent revenue increase is actually year-over-year.
Chicago, IL (PRWEB) January 20, 2015
With numbers showing 35 percent growth, multiple industry awards recognizing its ongoing Big Data and Business Intelligence innovations, and the establishment of five additional offices in 2014, international data analytics consultant CBIG Consulting continues to trend upward in the field of BI and Big Data Analytics service firms. Principal John Harmann stated that 2014 exceeded even their own goals and expectations.
In six instances in 2014, Independent research firms and media outlets recognized CBIG as being among leading BI and Big Data analytics consulting firms. Harmann noted, "What's really encouraging is the consistency of our efforts. That 35 percent revenue increase is actually year-over-year." He also noted the management team was pleased with the successful expansion of CBIG's geographic reach in the past year to best service customer demand, with the establishment of offices in Raleigh, Seattle, Singapore, Auckland, and London.
Harmann added that preliminary numbers show that CBIG saw much of its growth in the Healthcare and Pharmaceutical sectors, among other industries. Other notable highlights included an uptick in demand for CBIG's custom, scalable Lean BI and Lean Big Data services, and pioneering advancements in CBIG's portfolio of Marketing Analytics, Competitive Intelligence and Cloud Analytics services.
Looking ahead, Harmann said, "We'll continue to focus on solution and staff development for both specific industry sectors as well as business functions including sales, marketing, operations, and IT to name a few."
About CBIG Consulting:
CBIG Consulting is an international team of experts in Business Intelligence, Big Data Analytics, Data Warehousing, and Cloud-based Analytics platforms. Named a top BI and Big Data consulting firm by independent research organizations and publications, CBIG's analytics consultants average fifteen years of direct experience in the field. CBIG works with global enterprises, mid-size businesses, and non-profit organizations in solving mission-critical reporting and analytical needs. CBIG is headquartered in the Chicago area and has additional offices in San Francisco, Boston, Denver, Austin, Raleigh, and Seattle in the U.S.; Sydney, Auckland and Singapore serving the Asia-Pacific region; and London serving the United Kingdom. For more information, please visit http://www.cbigconsulting.com.