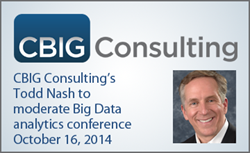 Chicago, IL (PRWEB) October 13, 2014
Based on the success of its 2013 Business Intelligence, Big Data and Analytics seminar, Technology Executives Club has once again selected Todd Nash, founding Principal at Chicago-based CBIG Consulting, to moderate its annual "Best Practices for Harnessing Big Data Analytics for Business Leaders and Results" conference in Chicago on October 16, 2014, at the Union League Club from 12:30 pm – 5:00 pm.
This year, Mr. Nash will be joined by keynote speakers Dr. Bamshad Mobasher, Professor of Computer Science and the Director of the Center for Web Intelligence at DePaul University College of Computing and Digital Media; Parthiv Sheth, Director of Business Intelligence at Hyatt Hotels Corporation; and Chuck Jacobs, VP of Technology Strategy and PMO at MorningStar. Mr. Nash will facilitate the discussion from an educational as well as an entrepreneurial perspective, highlighting the latest advancements in BI / Big Data Analytics and new strategies that technology executives can employ to best leverage technology in 2014 and beyond.
For more information on how to register or to learn how to obtain a complimentary pass as a non-member, visit http://www.technologyexecutivesclub.com/Events/2014/112014bigdata.php. The Union League Club is located at 65 W. Jackson Blvd., Chicago, IL 60604.
About CBIG Consulting (CBIG):
CBIG Consulting is an international team of experts in Business Intelligence, Big Data Analytics, Data Warehousing, and Cloud-based Analytics platforms. Selected by several independent research firms and publications as a leading BI and Big Data analytics consulting firm, CBIG consultants average fifteen years of direct experience in the field. CBIG works with global enterprises, mid-size businesses, and non-profit organizations in solving mission-critical reporting and analytical needs. CBIG is headquartered in the Chicago, IL, area and has additional offices in San Francisco, CA; Boston, MA; Denver, CO; Austin, TX; Raleigh, NC; Seattle, WA; and Sydney, NSW, Australia. For more information, please visit http://www.cbigconsulting.com.