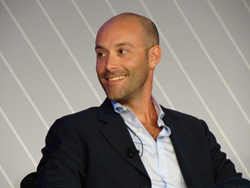 These premium domain names each offer a valuable digital asset that offers global opportunities. More often than not, choosing a premium domain name from the start can be the difference between success and failure.
(PRWEB) January 29, 2015
Industry-leading domain name brokerage firm Media Options announced this week the exclusive brokerage of Big Data Intellectual Property. The sale includes the digital asset and premium domain name BigData.com as well as two U.S. Trademarks.
Industry forecasts indicate "the Big Data market will reach $16.9 billion by 2015, up from $3.2 billion in 2010, seven times the estimated growth rate for the overall information technology marketplace" In addition, a full 70% of businesses are not yet using Big Data but likely will in the near future, so the growth potential is exponential. Thus, the BigData.com digital asset and Intellectual Property package could be a significant chip in leveraging which Big Data service provider will capture more of this enormous market.
Whether acquiring and storing Big Data or analyzing, understanding and applying it, acquiring this BigData.com Intellectual Property package can mean big results for a company and those it serves. A premium domain like BigData.com is proven to offer additional credibility to consumers and investors alike, particularly on a business card, in a consumer's inbox, or in an investor's list of choices.
Media Options assists clients with premium domain name acquisition as well as premium domain sales. Specializing in short acronyms and brandable .COM domains, Media Options is currently brokering premium names such as Class.com, Yup.com, PhotoBooth.com, 50.com, FreeQuotes.com, EO.com, EG.com, WI.com, PX.com, PNX.com & others.
Big Data is the vast information collected from consumers, extracted into practical insights and applications, with the long-term goal of transforming this data into more sales and increased value in business-to-consumer relationships. Companies like Google serve businesses by providing storage for the data collected by consumer behavior, online or in person, when interacting with the business such as in the checkout line, or when on their own on social media. Other companies like IBM and Oracle serve businesses by structuring the architecture of that storage for efficient analysis and integration, like into a call center representative's screen or recommendations for timely and relevant social media output. Target is a master of understanding Big Data, having tracked and understood consumer behavior to the legendary – but true – pinnacle that they knew of pregnancies before family members. The winners in the Big Data surge will be the service providers who best assist organizations in harnessing Big Data to cross-sell, upsell and increase relationship value. Contact Media Options to give your company a big leg up in Big Data today!
Media Options is based in Panama City, Panama and is a leader in premium domain name brokerage as well as discreet and professional domain acquisitions. Please visit http://www.MediaOptions.com to learn more about Media Options or to sign up for their domain investment newsletter.