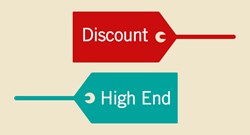 Seattle, WA (PRWEB) January 09, 2014
Can a price tag predict comfort and satisfaction when it comes to choosing a memory foam mattress? The latest article from Best Mattress Brand sets out to answer this question by comparing a range of name brands in their latest article, "Discount versus Big Name Memory Foam Brands".
The blog compares eight mattress brands using a similar 11-12 inch model from each line, ranging in price from $359 to $3699. Memory foam brands and beds included in the comparison (from most to least expensive) are: Tempurpedic Rhapsody Breeze, Sealy Optimum Inspiration, Serta iComfort Savant, Amerisleep Revere, BedInABox Tranquility Gel, Sleep Innovations Suretemp, Spa Sensations Theratouch, and Comfort Dreams Select-A-Firmness.
Best Mattress Brand produced and researched the article in an effort to answer common questions about price, quality and satisfaction. Many consumers report difficulty determining what type of mattress would be best and furthermore, with differentiating between the competing brands. Mattress makers often purposefully limit or obscure product information to make comparisons more difficult. So, buyers that may not have extensive knowledge on foam density and other aspects often rely instead on recognized brand names and prices to gauge quality.
However, the comparisons from Best Mattress Brand's article show potential flaws with relying solely on brand and pricing. Some of the key points that may be of interest to those in the market for a new memory foam mattress:

Mid-priced brands generally earned the highest ratings.
Mid & higher priced options tended to have better warranties.
Higher priced beds do not rate better than discount options on overall satisfaction.
Higher-priced beds were more likely to have high and medium density memory foam, but not always.
In the article, readers will find a detailed discussion on memory foam specifications and what different features mean, as well as links to previous articles that explain density and foam types in greater detail. A detailed table sums up the results for readers seeking a quick comparison, though the blog also offers in-depth analysis for each point to highlight significant differences and value potential. The website also offers several other articles on mattress brands, buying guides and other resources geared towards consumers.
BestMattress-Brand.org is a mattress research blog designed to provide information to mattress shoppers. With a mission to make bed shopping easier, editors provide unbiased assessments of manufacturer claims and customer satisfaction. The blog also features industry news and brand reviews based on first and third party research, and offers weekly newsletters for subscribers.