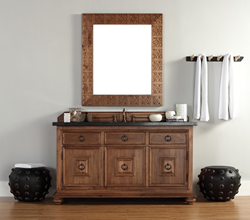 For the month of June, HomeThangs.com is offering discounts of 10%-25% on select bathroom vanities from James Martin Furniture, Virtu USA, and Sagehill Designs.
(PRWEB) June 06, 2015
HomeThangs.com – the Online Home Improvement Store has made it their goal to deliver the right product to the consumer. With that in mind, shopping and home design tips, as well as special product selections are being introduced.
HomeThangs.com is proud to announce a new summer sale on select bathroom vanities from James Martin Furniture, Virtu USA, and Sagehill Designs. This seasonal sale is one of our biggest of the year, with discounts ranging from 10%-25% on some of our hottest items. For the month of June, qualifying bathroom vanities will also ship for free. Our summer sale prices can also be combined with our normal, every-day coupons for even greater savings. These discounts are exclusive to HomeThangs.com, which means we have the best prices on eligible vanities anywhere online.
All three manufacturers featured in this summer sale specialize in customizable bathroom vanities, with design collections that come in a variety of different sizes and finishes, with multiple high quality stone vanity tops to choose from. Styles range from traditional to contemporary and everywhere in between, so there's a little something for everyone. For anyone who's been considering buying a new bathroom vanity, now is a great time to take the plunge. For more information about this sale, or to see some of our other summer discounts, check out our discount coupon page here, or head on over to take a look at the bathroom vanities themselves.
HomeThangs.com is not only a home improvement superstore, it also provides expert design tips and a comprehensive shopping guide, taking the ideas from professional interior designers, and offering tips to the consumers on how to pick the products to best suit their needs.