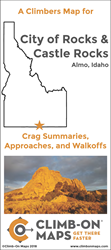 Large rock climbing areas can be challenging to navigate and plan for climbing. Climb-On Maps overcomes these problems by offering unique, extremely detailed rock climbing approach and walk-off maps.
ALMO, Idaho (PRWEB) August 23, 2018
Climb-On Maps is preparing for the September 15, 2018 release of its latest map for City of Rocks/Castle Rocks, ID and is offering big early-bird pre-print discounts now until September 15! The discount can be obtained when the map is purchased online at http://www.climbonmaps.com/buy.html
Large rock climbing areas that have lots of small, scattered rock formations, like City of Rocks National Reserve and Castle Rocks State Park, can be challenging to navigate and plan for climbing. Climb-On Maps overcomes these problems by offering unique, extremely detailed rock climbing approach and walk-off maps.
The City of Rocks/Castle Rocks map is a 24"x 36" two-sided, foldout trail map printed on waterproof, tear-proof paper. Features that help climbers include:

Clearly showing climbing walls that have been documented across multiple guidebook resources and Mountain Project;
Showing the difficulty level of trails and exposure encountered on approaches to climbing walls and common climb walk-offs;
From-the-ground orientation photos to assist with navigation at common points of confusion;
Comprehensive "Crag Summaries" for each wall showing the total number of climbs, distribution of sport/traditional/top rope, distribution of route grades, and number of aid and multi-pitch climbs at a wall. This feature helps climbers quickly plan their climbing day and find nearby suitable crags.
A new feature has been added to the Crag Summaries for this map – the number of R or X-rated climbs at a wall. This provides an added safety element, calling attention to walls that have poor climbing protection.
ABOUT CLIMB-ON MAPS
Climb-On Maps was started by husband-wife team Stefani Dawn and Rick Momsen. To date, Rick and Stef have walked over 1800 miles, some of which was quite sketchy, to collect the data for these maps. Getting boots-on-the-ground data is the ONLY way to make a map like this.
They currently have climbing maps published for the following areas: Red Rock Canyon, NV; Joshua Tree, CA; Smith Rock, OR; and thier newest release, City of Rocks/Castle Rocks, ID.
Rick is a "mapping expert," with nearly 20 years in the mapping industry as a Geographic Information Specialist (GIS). Rick is responsible for translating the GPS and terrain data into an attractive, visually intuitive, and usable map.
Stefani is the "Jack-of-all-trades" for the company, managing the business side, the website, social media, as well as taking, identifying and labeling photos for the maps, and creating the crag summaries for the maps.
Rick and Stef have each been climbing for over 10 years. The impetus for Climb-On Maps was the ongoing frustration of wasted time looking for crags and climbs while on a limited vacation, and being side-swiped by a walk-off that was more strenuous and terrifying than a climb itself. Because climbing is their passion and they want to help other climbers have awesome climbing experiences, they began Climb-On Maps.
Rick and Stef also care greatly about the environmental impacts of climbing on an area. They work closely with the public officials who oversee the climbing areas to ensure rules and regulations are communicated and areas that are off-limits are clearly shown on the maps. By mapping detailed approaches and walkoffs, it helps limit the social trails that are created when climbers are lost looking for a climb.
Contact and social media:
Website: https://www.climbonmaps.com/
Email: info@climbonmaps.com
Instagram, Twitter, & Facebook: @climbonmaps