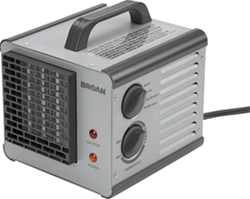 Homeowners will appreciate the unit's three settings, high heat, low heat, and fan only, and how quiet the unit is
Farmers Branch, TX (PRWEB) November 30, 2014
Space heaters provide a smart solution for heating small spaces economically. Homeowners can save a lot of money with the use of an efficient heater like the Broan-Nutone Big Heat 1500w Electric Space Heater. The heater is now available at TheHardwareCity.com for a price that is 60% lower than suggested retail. Shoppers can also enjoy free shipping through the home improvement supply store.
With a heavy-duty design, the heater includes rounded bumpers, which protect the portable heater and prevent damage. It is constructed from rugged steel with a durable finish. Since the unit incorporates a built-in handle for easy transport from room to room, homeowners can simply heat just the space they are occupying.
The Big Heat 1500w Electric Space Heater by Broan-Nutone incorporates many safety features. With an automatic safety feature, the unit will turn off if it is on its back or front. It also comes with overheat protection, which prevents fires or damage to the product. It will automatically turn the unit off when it becomes overheated. There is also an indicator light, warning its user when the unit is really hot. The many features ensure the safety of the family and children surrounding the product.
Due to its ceramic heating elements, the space heater has a quick warm up period. Users of the unit can turn it on just when it is needed. A setting allows the unit to minimize electricity usage to 1200 Watts, allowing the user to control efficiency when needed. The heater has an integrated thermostat, which will help a space maintain the desired temperature. Homeowners will appreciate the unit's three settings, high heat, low heat, and fan only, and how quiet the unit is.
To purchase the space heater and have it delivered in time for cold weather, visit http://www.thehardwarecity.com/products/6201-Big-Heat-1500w-Portable-Electric-Space-Heater/0002991.
About TheHardwareCity.com:
Many products and supplies are available at TheHardwareCity.com for a price lower than retail. Since 2007, the online home improvement store has been delivering quality products to its customers. With the desire to make the most innovative and preferred tools and equipment available online, the store continually adds new products to all of its departments including heating supplies and cooling, plumbing, electrical, building supplies, paint and paint sundries, and more. To speak with one of the store's customer service representatives, visit http://www.thehardwarecity.com/ and use the website's live chat feature