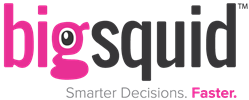 "We didn't experience the typical friction of deploying and integrating a new enterprise application. We were able to deploy the app, integrate with directory services and data providers and start building models in less than 20 minutes!" - Eldon Jenkins, CTO BioMetric Dashboard
SALT LAKE CITY (PRWEB) May 09, 2019
Big Squid, the global leader in automated machine learning, today announced new Kraken on-premises deployment options that allow business analysts and data scientists to rapidly build powerful machine learning models locally and behind their firewall -- all with just a few clicks. These new on-premises options extend Big Squid's long-standing leadership in cloud-based automated machine learning.
While many organizations are rapidly migrating data to the cloud, the vast majority of businesses continue to store their most business critical and sensitive data behind the firewall. Business leaders and analysts alike are eager to tap into these rich on-premises datasets with machine learning and make smarter, data-driven decisions. With the on-premises deployment of Kraken, decision-makers can now do just that and no data leaves the customer's secure environment.
"As we spoke to more and more prospective customers, particularly larger enterprises, it became apparent that while Kraken clearly fit the needs and vision for how machine learning could be used within their organization, doing so in a public cloud environment wasn't feasible. We built the on-prem deployment of Kraken to support the security and governance needs our customers demand." stated Nick Magnuson, VP of Product, Big Squid.
To ensure additional security, Big Squid has adopted an extremely hands-off approach to managing the on-premises instance. Channel-management allows the customer to take control of when and how often they upgrade -- all with one-click through the included admin console interface. With release notes for every update, customers are informed on the latest additions or fixes to each release.
"While many customers are leveraging data and analytics in the cloud, there are also many who will keep data on-premises for valid business reasons such as compliance and security," said Mike Foster, Vice President, Strategic Partners – Technology, Qlik. "Making Kraken available both on-premises and in private cloud environments will enable more customers to benefit from using Big Squid alongside Qlik when executing analytics where their data resides."
While on-premises installations are traditionally very slow and complex, Big Squid's modern approach brings rapid speed and simplicity to deployments through the use of Docker and Docker Swarm. Customers are able to get up and running in just a few minutes, far quicker than traditional on-premises installations.
"Installing Kraken the first time was surprisingly simple. We didn't experience the typical friction of deploying and integrating a new enterprise application. We were able to deploy the app, integrate with directory services and data providers and start building models in less than 20 minutes!" - Eldon Jenkins, CTO BioMetric Dashboard
Big Squid's on-premises solution supports deployment options such as VMware, hardware, or installing into a private cloud environment. It also provides the necessary flexibility to accommodate air-gapped installs where there is no public internet access. Big Squid also notes that the on-prem version of Kraken is built with the same level of automation and reproducibility of its cloud-hosted version and allows users the ability to scale with ease.
This announcement comes in the wake of additional major Big Squid updates, namely their Prediction API, Snowflake integration, and CSV upload. The industry-leading ease-of-use, rapid deployment, advanced security and flexibility of Big Squid's on-prem solution set a precedent for innovation and market leadership.