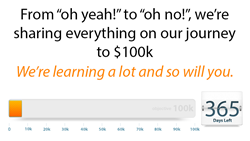 "Everyone is capable of something great and they deserve to be able to spread their message around the world. With what BigBangly is sharing here, every one will be able to do just that!"
Auckland, New Zealand (PRWEB) August 13, 2015
BigBangly is starting a company from scratch with the goal of making $100,000 profit in one years time. By making the whole process public they hope the world can follow, learn and create something awesome themselves.
Steven Male is behind the idea and believes that every business owner has what it takes to be even more successful. With over 8 years of experience in the field of search engine optimization (SEO), social media optimization (SMO) and content marketing he will be using every trick in the book to develop a raving online community and start another successful business.
Every business is capable of something great and they deserve to be able to spread their message around the world.
He knows from personal experience the most frustrating thing in life is sitting on an amazing idea and not be able to get it off the ground! And Steven is no first timer when it comes to business. At the age of 23 he has already launched two companies as well as started a blog that managed to get 70,000 email subscribers in the first few months.
With a challenge there must be a few rules:
-The business won't go in over $1,000 of debt.
-He won't leverage his current businesses.
-He won't work full time on this… nowhere near. The challenge is to show how to create a business with, as Tim Ferriss puts it, MED (Minimum Effective Dose). In this case MED is the minimum amount of effort required to create something amazing.
-This business will be a social enterprise. This means the business will focus on two outcomes; profit and adding value in a positive way that contributes to society as a whole.
-He will be making the whole process completely transparent.
The journey will be broken up into lessons over the next 60 days, and the company has promised to share everything from website traffic to actual revenue.
The goal is to document the entire journey through posts and podcasts. BigBangly wants to authentically share the roller-coaster experience from failed interviews to reaching their first 100 users.
Check out the BigBangly SEO Auckland on their website for more information about starting a business or seeing how far they can growth hack the new business! BigBangly will also be giving away all their resources on marketing, launching and growth hacking for free to everyone who signs up!
BigBangly was founded by Steven Male back in 2013 with the sole goal of helping small and medium businesses spread their message from their neighbors to the world. They are the leading experts in local SEO and have served over 100 clients in the last few years around the world.
Important links