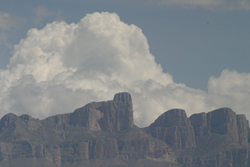 "Watching the Chisos Mountains, as they turned purple in sunset, rising up from that vast, empty desert floor, was a thrill I had not anticipated - absolutely stunning!" A tour participant, 2012
Dallas, Texas (PRWEB) December 01, 2014
Naturalist Journeys owner, Peg Abbott, applauds Big Bend National Park's efforts to celebrate wilderness, a characteristic of the park that led her to design a birding and wildlife tour there over twenty years ago. In the spirit of celebration, Naturalist Journeys announces its Texas Big Bend Birding and Wildlife Tour, April 18-25, 2015. This year's tour will highlight wilderness alongside birding, interpreting the impressive geography and rich biodiversity of Big Bend National Park. Wilderness mountain and desert landscapes provide habitat for abundant birds – particularly at the peak of migration each spring.
Big Bend National Park held demonstrations of wilderness skills at Cottonwood campground this past week, including mule packing, ranger horse patrol, search and rescue techniques, canoeing skills on the park's Rio Grande River, dry-stone masonry, crosscut sawing, trail building, and methods used for fossil research. It is the sense of wilderness most memorable to Big Bend travelers; the vistas, the stark layers of rock, the vast sense of solitude and space.
Naturalist Journeys has specially designed this tour to explore the park in detail, its expert guide sharing an ecological comparison of the Chisos and Davis Mountains, two isolated mountain ranges of West Texas that bridge the gap between the Sierra Madres and the Rockies. These ranges are stepping stones that have evolved a unique combination of flora and fauna over time. Understanding the significance of the birds they tally augments a traveler's experience. Alluring trails, desert sunsets, unexpected species, and sensing the rhythm of spring bird migrations are highlights of the week-long tour.
Big Bend is home to nearly 450 species of birds, hosting eastern and western, Mexican and Rocky Mountain species. Many rare and vagrant birds have been recorded in Big Bend. Travelers also have the opportunity to spot the famous Colima Warbler, a species that tops the "most-wanted" list of a visiting birdwatcher as within the US, it only nests regularly in Big Bend National Park.
Several mammals can also be found on the company's Texas Big Bend Birding and Wildlife Tour including Kangaroo Rats, three species of skunks, Javelinas, Coyotes, Gray Foxes, and Black Bears.
At 801,000 acres, Big Bend National Park is larger than Rhode Island. The Texas Big Bend Birding and Wildlife Tour is designed to explore the rich array of geology found in the park, from the magnificent eroded volcanics of the Chisos Mountains to towering plateaus of limestone formed in the Cretaceous Period. Desert, spring, and riparian habitats are all found here.
Travelers will also witness spectacular views over 4 nights at Chisos Mountain Lodge, nestled in the basin of the Chisos Mountains. The tour also takes in the rugged Davis Mountains, and provides a stop at a now-famous Texas watering hole – the historic Gage Hotel.
More on Naturalist Journeys upcoming Big Bend Tour:
The main tour begins and ends in El Paso, Texas. It is limited to 8 persons. Naturalist Journeys' guide Woody Wheeler leads this tour. Wheeler is a certified interpretive guide and owner of Conservation Catalyst, a birding and natural history firm. He has previously worked for the Audubon Society and The Nature Conservancy as a naturalist and tour leader. A full Big Bend tour itinerary can be found on the company's website, or phone 866-900-1146 for more information.
About Naturalist Journeys
Naturalist Journeys is a nature-travel company based in Portal, Arizona. They strive to support eco-tourism throughout the U.S. and beyond, through small-group guided journeys, often in co-operation with local non-profit groups and communities.