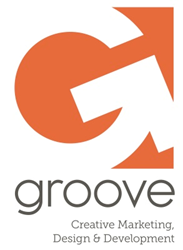 HubShop.ly was designed to transform the way online retailers market to their customers, significantly increasing their company's revenue.
Baltimore, MD (PRWEB) May 19, 2015
Groove, a Baltimore-based creative marketing, web design and development agency, has launched its ecommerce custom development application, HubShop.ly, for Bigcommerce. A HubSpot Certified integration, HubShop.ly leverages customer and order data from Bigcommerce with HubSpot's powerful suite of inbound marketing and reporting tools to drive more revenue online.
With more than 90,000 clients selling online and transacting billions in sales each year, Bigcommerce is touted as the ecommerce platform of choice for fast-growing brands. Groove, recently named a Bigcommerce Enterprise Partner, services clients on the robust, hosted ecommerce platform for high-volume retailers transacting millions of dollars in sales.
"Our partnership with Groove has helped many of our fast-growing clients realize new levels of success with their business," said Melanie Kalemba, SVP of sales and strategic business development at Bigcommerce. "This integration gives our retailers more advanced marketing capabilities and opportunities to connect with their customers, allowing them to create and grow a thriving retail brand."
"HubShop.ly was designed to transform the way online retailers market to their customers, significantly increasing their company's revenue," adds Ethan Giffin, Groove CEO and founder. "The application's success continues to propel our agency's mission to bridge the gap between ecommerce and inbound marketing."
As a HubSpot Platinum Agency Partner and Bigcommerce Enterprise Partner, Groove found that customers were not fully leveraging the programs' essential features due to the inability to capture customer and order data within HubSpot out-of-box.
HubShop.ly automatically syncs customer and order data for smarter reporting and customer segmentation. To date, Groove clients using the HubSpot custom development application have seen an 18% increase in overall revenue, a 21% decrease in shopping cart abandonment, and a 10% increase in repeat purchase rate.
"Everything we do at HubSpot centers around providing solutions for our customers that will help them grow and integrations partners like Bigcommerce play a key role in enabling that for them," said Brian Halligan, HubSpot CEO and co-founder. "With all of our new integrations, including Groove's HubShop.ly, we are able to make our customers' lives easier and help them increase efficiency and productivity as they grow their companies through inbound marketing and sales."
HubShop.ly features help merchants to address:
● Abandoned Shopping Cart: Capture all Bigcommerce cart abandonments in a HubSpot smart list. Then, recover these carts with a triggered, fully customizable email workflow. Cart recovery emails will include pictures of the abandoned products, as well as a session restore link that will allow customers to return to a pre-filled shopping cart in just one click.
● Automated Emails and Workflows: Create an unlimited amount of triggered emails to personalize messaging and increase the customer lifetime value. Automated workflows can include a welcome series, cross-sells and upsells, post-purchase follow up, product review requests, and more.
● Advanced Reporting and Customer Segmentation: Fully sync all customer and order data from Bigcommerce with HubSpot's smart lists to gain valuable insights about customers, including first and last order date, most recent order total, lifetime revenue, total number of orders, products purchased, and more.
Earlier this year, Groove launched HubShop.ly for Shopify, marking the first ecommerce custom development application for HubSpot.
To learn more about HubShop.ly, visit http://hubshop.ly.
About Groove
Founded in 2007, Groove is one of the nation's premier creative marketing, web design and development agencies. Headquartered in Baltimore, MD, Groove delivers digital solutions to small and mid-sized businesses, ranging from eCommerce, web design, inbound marketing, and branding. The growing company has been recognized nationally on the 2013 and 2014 Inc. Magazine "Inc. 5000" list, as an Agency Post "Agency 100," and as a "Best Young Company to Work for" by turnstone. Groove was also named a 2014 "Best Place to Work" in Baltimore by the Baltimore Business Journal, taking first place in the small business category.
Groove has forged partnerships with some of the world's leading software programs like Magento, HubSpot, Bigcommerce, Shopify, and Salesforce.com. The agency is the only Magento Gold Solutions Partner in the tri-state area and the only HubSpot Platinum Partner in Baltimore (one of 16 globally!). To learn more about Groove, visit http://gotgroove.com.
###