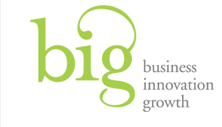 It's an excellent opportunity for entrepreneurs to hear the successes, as well as the challenges and failures, of funding a startup.
Charlotte, NC (PRWEB) January 28, 2015
BIG, Business Innovation & Growth, is a Charlotte-based organization that works to bring entrepreneurs together to learn from each other's successes. In partnership with the Belk College of Business, BIG will be holding their annual conference for startups and early stage companies on January 29, 2015 at the UNC Charlotte Center City Campus. Speaking amongst the top influencers in the field will be Roy Morejon, President of Command Partners, a digital marketing agency based in Charlotte, NC.
The day-long conference will bring professionals together to network and share their tricks of the trade. It will also serve as a platform for startups and other small businesses to meet and connect with investors and entrepreneurs who may be interested in assisting them with their businesses. The day will consist of keynote speakers, seminars and panels which seek to educate and enlighten everyone in attendance.
"This is the 6th year of hosting our annual Funding Event, and it's always very well received," said Terry Cox, President and Chief Executive of BIG. "It's an excellent opportunity for entrepreneurs to hear the successes, as well as the challenges and failures, of funding a startup. The event offers great networking opportunities for the entrepreneurial and investor community. We added the Wild Pitch session this year which will be entertaining as well as educational."
Among the many talented speakers will be Dain Dulaney of Bishop, Dulaney & Joyner, Mike Feldman of T1Visions, and Ben Stagg of White Stagg. Stagg will be part of the "Wild Pitch" panel. This panel will have five startups presenting their pitches and taking questions about their products and business models. The event will end with a reception and happy hour at Queen City Q, where guests can network some more and discuss their day with fellow attendees.
To register for the conference, visit the website. Registration is free for members and students, and $20 for the general public.
To find out how Command Partners can help your business with digital marketing for startups, visit http://www.commandpartners.com or call 704-910-5727.
About Command Partners
Command Partners works with innovative clients around the globe and focuses on results-driven web presence marketing strategies for driving online visibility and lead generation through social media marketing, search engine optimization, public relations and strategic advisory services for startups. Recently named a top 10 startup marketing agency by Hubspot, they're also an industry leader in search engine marketing and were awarded one of Charlotte's best places to work award in 2014.To learn more about the company's leading digital marketing services, call 704-910-5727 or visit http://www.commandpartners.com.