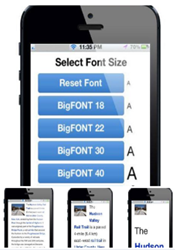 I personally think BigFONT will help many people who, like myself, are not able anymore to read like a 20-year old,
(PRWEB) September 30, 2013
Today almost three quarters of all adults have vision problems and need to wear glasses or contacts. BigFONT provides a number of innovative features to help coping with the small print on mobile phones. To browse the web with ease, app users may set custom zoom levels in the iPhone browser to increase even the tiniest print on many mobile websites to a comfortable reading size. Now everybody can enjoy large-size text that is automatically reformatted to stay inside the display, no matter how big it is.
"I personally think BigFONT will help many people who, like myself, are not able anymore to read like a 20-year old," says Dr. Jesus del Valle, Head O&I R&D IT Innovations, who is in charge of the Grants4Apps initiative.
Recognizing the potential to help millions of people with bad eyesight, Grants4Apps, an initiative of one of the largest global healthcare companies, awarded the €10,000 ($13,000) innovation grant to BigFONT to add an OCR Reader that will make the life of many people a lot easier. Available later this year, users can take a picture of printed material to listen to and read the extracted text in large print on their iPhone.
To simply magnify print or small objects, an additional feature in the app transforms the iPhone into a portable magnifying glass with zoom levels of up to 8-times the original size.
The included 3D- stereogram exercises can help to protect the users' vision by reducing digital eye strain when looking all day into a computer monitor. The GPS based optometrist finder provides patient review ratings and driving directions.
"With so many people having vision problems, BigFONT offers a full spectrum of vision-aid tools to help people throughout their day to read with ease," says Speech Technology Group's President Gerd Graumann.
About BigFont:
BigFONT was created by Speech Technology Group, a provider of highly accurate speech recognition and natural sounding text-to-speech solutions that help millions of business users and also people with vision impairments to regain their independence and participate both in regular life as well as the digital world. The app is available on all global app stores and has users in over 20 countries.
About Grants4Apps:
The Grants4Apps™ initiative supports innovative app projects that are contributing to the improvement of general health and pharmaceutical processes. After receiving a large number of submissions, Grants4Apps™ selected 23 innovative healthcare startups and developer teams. The successful submissions receive a grant of €5,000 or €10,000 to assist in the building and creation of their app projects.
Go to the BigFONT site for more details, visit the media-kit page here, or download BigFONT on the App Store.