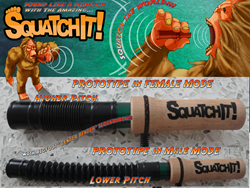 Austin, TX (PRWEB) July 14, 2013
Cryptomundo.com's Craig Woolheater excited the crowd at Saturday's Minnesota Iceman Unveiling event at Austin's Museum of the Weird with his SquatchIt Sasquatch caller demonstration. Craig's demonstration of the SquatchIt was met with excitement and positive responses. Several visitors inquired about when SquatchIt would be available for sale.
"The reaction was overwhelmingly positive to the SquatchIt demo. I was asked by several people, 'Where I can I get one' and 'When will the be available'. I told everyone that our crowd funded initiative will launch this month before the end of July 2013," says Craig Woolheater, creator of cryptomndo.com and SquatchIt Bigfoot call partner.
Craig Woolheater is the creator of CryptoMundo.com is the world's most popular and authoritative website on the subject of Sasquatch and Bigfoot frequented by of some of the most respected leaders in the field of Cryptozoology.
The Museum of the Weird is located 412 E. 6th Street Austin, TX 78701. For more information about The Museum of the Weird, visit their website at museumoftheweird.com.
SquatchIt is the world's first novelty noidemaker that makes Bigfoot sounds. For more information about SquatchIt, visit their website at squatchit.com or email contact(at)squatchit(dot)com.