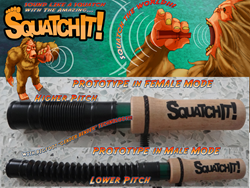 On July 13, 2013 the Minnesota Iceman will make a dramatic return at the Museum of the Weird in Austin, TX. We are proud to be represented by Sasquatch expert, Craig Woolheater, at the event
Austin, TX (PRWEB) July 08, 2013
SquatchIt partner, Craig Woolheater of cryptomundo.com fame, will be showcasing and demoing the SquatchIt prototype at the Minnesota Iceman unveiling event at the Museum of the Weird in Austin, TX on July 13, 2013. SquatchIt will be represented as Museum of the Weird owner Steve Busti displays the body of a hairy Neanderthal or Bigfoot-like monster frozen in a solid block of ice in a refrigerated coffin, which has not been seen since 1968.
"On July 13, 2013 the Minnesota Iceman will make a dramatic return at the Museum of the Weird in Austin, TX. We are proud to be represented by Sasquatch expert, Craig Woolheater, at the event. Craig will be showing off the SquatchIt prototype and performing demos. We are pleased to be part of this special event and have the opportunity to demo our SquatchIt during this historic event," says Christopher Oliver, co-inventor of the SquatchIt Bigfoot call novelty noisemaker.
CryptoMundo.com, the world's most popular and authoritative website on the subject of Bigfoot. Cryptomundo is a place to enjoy the adventures, treks, theories, and wisdom of some of the most respected leaders in the field of Cryptozoology.
The Museum of the Weird is located on 6th Street in downtown Austin in the same building as Lucky Lizard Curios & Gifts. Their address is 412 E. 6th Street Austin, TX 78701. For more information about The Museum of the Weird visit their website at museumoftheweird.com.
SquatchIt is not only the world's first novelty Bigfoot call "wildlife call" aka a "predator call" product, it's also a new lifestyle brand phrase that allows people to shrug off situations that really aren't worth getting upset over; i.e., when you're in a jam, just SquatchIt! For more information about SquatchIt visit their website at squatchit.com or email contact(at)squatchit(dot)com.