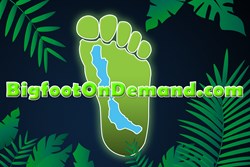 Bigfoots are as Real as Panthers, Bears & Deer and are here in New York State as well...
Chautauqua County, NY (PRWEB) November 21, 2013
A Bigfoot conference held recently at Chautauqua Lake in western New York State is now available online for a nominal fee. Currently the only Bigfoot conference in the world available on demand summarizes three days of presentations by experts on the Bigfoot phenomenon as seen at a kid friendly and adult professional event.
"The Animal Planet Network television series, 'Finding Bigfoot' certainly added to the mystique," notes Peter Wiemer, director of the Chautauqua Lake Bigfoot Expo. "And people naturally share a fascination for information discovered and seen by eyewitnesses. Opinion polling shows nearly 30% of Americans open to the idea of Bigfoot's existence, so our video does benefit from a ready-made market."
Competing with TV Networks, Cable, NetFlix, Amazon and others, BigfootOnDemand.com is cutting a wake into the television community by offering Bigfoot believers, numbering in the millions worldwide, another choice of TV viewing available on the Internet.
Conference participants learned about Bigfoot, legendary ape-like humans who have been repeatedly sighted across much of the United States as well as other countries including Canada, Russia, Japan, New Zealand, Brazil and beyond. At this year's event, 82-year-old Bob Gimlin, from Washington State, spoke about his Bigfoot sighting from the "Patterson – Gimlin Bigfoot film of 1967 in Orleans, California of a female Bigfoot." You can see Bob Gimlin and catch a glimpse of a New York State Bigfoot conference on this year's video trailer.
Are Bigfoot type creatures living in natural harmony with civilization here and in other remote areas of North America? "Fourteen local eyewitnesses to Bigfoot sightings in WNY State who resolved themselves to me do indeed make me a believer for no other reason then believing they know what they saw," said Wiemer. There are hundreds of documented sightings in the USA and hundreds more around the world. The town hall meeting at this year's event had adults and children attesting to their personal Bigfoot sightings and gave those who attended and watching on demand a feeling of belief.
Will New York State or the US Government make Bigfoots / Sasquatches a protected species…? An indigenous humanoid species that pre dated Christopher Columbus and the American Indians certainly deserves some kind of protection under a State or National law. "I wrote New York State and President Obama requesting Protected Species status for Bigfoots / Sasquatches ", said Wiemer. "NYS weighed in by writing 'This mythical animal does not exist in nature or otherwise… that there is no such animal anywhere in the World'." No comment as of yet from President Obama…
End of Press Release
Peter Wiemer graduated from Chautauqua Central High School in 1976. In 1979, he and his family purchased We Wan Chu Cottages on Chautauqua Lake. He also was part of many other organizations and projects around the Chautauqua Lake area. From 1982-1986 he was the chairman of The I Love NY Windsurfer Championships. He was appointed as the first chairman of the first Ice Castle Extravaganza (I.C.E.), which took place in Mayville, NY in 1987 and drew more then 25,000 people. In 1987 he was awarded the Presidents Award from the Chautauqua County Vacationlands Association for new festivals and special events from his Chairmanship of the first I.C.E. In 1988 the I.C.E. grew to a 10-day event drawing more then 75,000 people over the two weekends. Peter and his wife, Kathy, created Milt the Talking Musky in 2006. Milt the Talking Musky is a pre-school - 2nd grade Sight Word learning tool with a sing along song and alphabet in an mesmerizing underwater scene. In 2008, one of Peters employees showed Milt to two twin six-year-old Autistic boys and for the first time ever, one of the boys attempted speech. Milt is listed on AutismSpeaks.org website. Peter and Kathy started another video endeavor in 2009. They created The iKidsFishing Show which is a children's' fishing show starring kids teaching kids and you how to catch fish. The iKidsFishing Show remains the only Kids' Fishing Show starring Kids teaching Kids to Fish in America. His newest endeavor was in 2012 when he created the first annual Chautauqua Lake Bigfoot Expo. This event brought in national Bigfoot speakers from around the country to talk about their knowledge and experience with Bigfoots. It is still the only Bigfoot convention in New York State and the only Bigfoot convention in the World available on streaming video.