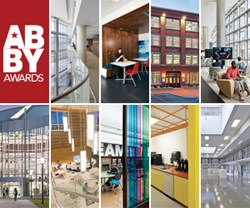 'It is my goal to demonstrate the effectiveness of Bigfoot CMMS and try to make it the standard maintenance solution for all DOC Facilities in Alaska.' -- John Yost, GCCC maintenance superintendent
Center Harbor, NH (PRWEB) October 08, 2013
Smartware Group Inc., producer of the award-winning Bigfoot CMMS (Computerized Maintenance Management System), announces that BUILDINGS magazine has selected client Goose Creek Correctional Center as a 2013 ABBY Award winner. The project, which earned a Merit Award (2nd) for New Construction, exemplifies innovative performance standards in commercial building design and operations.
"Goose Creek demonstrates how smart building controls and software can streamline energy efficiency, sustainability, and O&M practices," said Jennie Morton, associate editor for BUILDINGS magazine.
Goose Creek Correctional Center (GCCC) sits on 300 wooded acres with five structures that were built in phases over a three-year period. While functioning as a secure facility, GCCC was designed to create a sense of community in a natural setting. The five buildings that house more than 1,500 inmates, plus support services, classrooms and visitation, and special management units, are uniquely designed to emulate a city in the wilderness, and aide inmates in being better prepared to live in society upon their release.
In addition to design innovation, GCCC was commended for its progressive approach to operations and maintenance. The facility established a proactive structure while under construction, and chose Bigfoot CMMS to set up a preventive maintenance schedule and keep track of its 1,700 pieces of equipment, safety tasks, operations manuals, and more. A proactive maintenance program also made it possible for GCCC to hire inmates to work alongside its staff in order to learn new skills while serving time.
"It is my goal to demonstrate the effectiveness of Bigfoot CMMS and try to make it the standard maintenance solution for all DOC Facilities in Alaska," said John Yost, GCCC's maintenance superintendent and State liaison with the construction team.
"The project is estimated to save GCCC at least 20 percent of normal maintenance costs due to more accurate scheduling, and less downtime and failures."
Now in its 8th year, the America's Best Buildings of the Year (ABBY) Awards highlight projects that set a new benchmark for facility managers to emulate. Goose Creek Correctional Center is part of an elite group of nine buildings that are showcased in the magazine's October 2013 issue.
Submitted profiles were evaluated by the BUILDINGS editorial staff for the latest innovations in areas such as energy efficiency, sustainability, forward-looking design, purposeful renovation, and streamlined operations.
Access the GCCC award page, "Correctional Center Combined Sustainability and Efficiency" at http://www.buildings.com today for more details.
About Smartware Group, Inc.
Smartware Group, Inc., headquartered in Center Harbor, N.H., produces Bigfoot CMMS for a variety of industries, from manufacturing to hospitality and tourism.
Since 2002, Bigfoot has helped more than 10,000 users worldwide improve facility and equipment maintenance operations with advanced capabilities that include preventive maintenance (PMs) and predictive maintenance, work order scheduling, maintenance requests, asset life cycle management, parts replacement inventory, and built-in reporting. Bigfoot CMMS' native functionality paired with its intuitive design allows maintenance professionals to implement the solution and get results quickly, often in a matter of weeks.
Visit http://www.bigfootcmms.com for a free trial of Bigfoot CMMS today.
About BUILDINGS
BUILDINGS magazine serves over 74,000 commercial building owners and facilities management professionals in North America. The monthly publication helps readers make smarter decisions relevant to the management, modernization, and operation of their facilities.
# # #