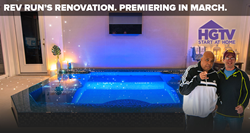 "We are ready to go. If Drake wants the largest residential pool on the planet we are ready to build it for him…the question is, is he ready."
(PRWEB) March 28, 2014
Cipriano Landscape Design & Custom Swimming Pools, a luxury swimming pool design & construction firm based in Northern NJ, issued a challenge to rapper Drake recently after coming across a quote made by Drake himself in a Rolling Stone profile on February 13th of this year. According to the article Drake claimed he is obsessed with residential swimming pools adding, "one of my goals in life is to have the biggest residential pool on the planet."
After recently building a custom spa for rap royalty Rev Run for the HGTV show 'Rev Run's Renovations', premiering on HGTV tonight @ 9:00 pm EST, owner Chris Cipriano has set his eyes on Drake as his next challenge. "We are ready to go. If Drake wants the largest residential swimming pool on the planet we are ready to build it for him…the question is, is he ready." stated Chris, "the sky is the limit when it comes to custom swimming pool design and size is one aspect but being an artist I am interested in hearing what Drake's vision for this pool would be. Would he want a room underneath the pool with a glass ceiling? A grotto three times the size of Heff's? I am very interested to hear his creative vision and hope he is ready to make it a reality."
Building in custom pools built for musicians is no new venture for Cipriano as his firm completed a custom inground pool built in the shape of a Stradivarius Violin last year in Bedford NY. The technology incorporated would impress even Drake. Controlled completely wirelessly from an iPhone, all glass tile, a Riverflow jet system to kayak or swim against, Nearly six thousand fiber optic lights and acrylic panels so that swimmers can look through and see an adjacent custom koi pond.
Cipriano has brought his challenge to social channels in order to allow Drake's loyal fans to chime in. A Twitter profile and registered hashtag will allow fans to get involved. Any fan who would like to add their thoughts on what they think Drake's dream pool would or should look like is encouraged to join the conversation and Chris has said that if Drake builds the record-setting pool and uses a fan's tweeted idea as inspiration, he would fly that fan out for the photo shoot of the finished project. Make sure to follow @drakesdreampool and like Cipriano Custom Swimming Pools on Facebook to join the conversation! Tweet your design ideas using the hashtag #drakesdreampool!
The ball is in Drake's court now. Will he make history yet again by building the largest residential pool on record? We will have to wait and see his response but don't underestimate your power in this…if you have a crazy idea that Drake ends up loving you could make history as well.
Celebrating 25 years in business, 14-time international award winner Cipriano Landscape Design distinguishes themselves from all other swimming pool & landscaping companies with their extensive design and construction experience. As a recognized national leader in custom residential & commercial landscaping, masonry, swimming pools and water features, the Mahwah NJ firm has been offering complete estate transformations since 2001. With a design office headed by Certified NJ Landscape Architect William Moore, the Cipriano team has won 75 awards of excellence since 2006 and in 2013 was named by Pool And Spa News to their "Top 50 Pool Builders" list.
Visit http://www.njcustomswimmingpools.com
CONTACT: Matt Staudt
Anchor Social
matt(at)anchorsocial(dot)com
(855) 424-6326