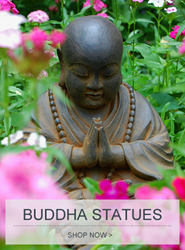 We absolutely love the work that we are fortunate enough to be to do everyday.
(PRWEB) May 13, 2014
BigHappyBuddha.com is proud to announce that they have conducted a website re-design to promote user-friendly browsing of their Buddhist products. Since 2003, owners Cindy and Ryan have successfully managed their business; the website re-vamp is in celebration of staying in business for over ten years, and as a thank you to the customers who have allowed the small business to thrive in a 'big box' dominated e-commerce world.
BigHappyBuddha.com offers an extensive selection of meditation supplies, Buddhist gifts, and many more related products, to include but not limited to Buddha statues, Chakra jewelry, Buddha garden statues, incense, figurines, wood carvings, tapestry blankets, soap, and candles. With their small business mindset, Cindy and Ryan provide excellent customer service by keeping business personal, providing high quality products and fair prices.
"We are truly excited to be a thriving participant in the e-commerce world after 11 years," says Ryan, owner of BigHappyBuddha.com, "since the beginning, Cindy and I have worked hard to source great products from all over the world. It's been quite a journey and we absolutely love the work that we are fortunate enough to be able to do everyday."
Perhaps BigHappyBuddha.com's most valuable asset is their willingness to talk with their customers. Through these discussions, the owners of BigHappyBuddha.com happily take customer's feedback and efficiently implement it into everyday business practices. If a customer is in need of a particular Buddhist product, and the store does not currently carry it, Ryan and Cindy will ensure that the product arrives on their shelf and is available to all customers. BigHappyBuddha.com also has a stellar return policy. If customers are not satisfied with their purchase, the company will gladly credit or refund new and unused merchandise within 30 days of delivery.
About BigHappyBuddha.com
Since 2003, BigHappyBuddha.com's mission has been to provide customers with a wide variety of Buddhist products with exceptional customer service and great prices. The company is committed to 'Right Action' and being a 'Mindful Merchant,' promoting compassion, clarity, and happiness by offering a wide selection of indoor and outdoor Buddhist products and accessories.
http://www.bighappybuddha.com/
Contact BigHappyBuddha.com
For potential customers and media inquiries, please contact the company at (800) 769-9178, or e-mail at info(at)bighappybuddha(dot)com.