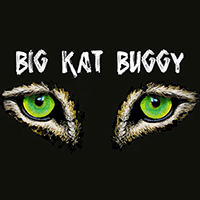 "Receiving the awards compliments not only our product but every one of the team members who have been a part of launching Big Kat Buggy®."
Statesboro, GA (PRWEB) June 08, 2016
The National Hardware Show® held May 4-6 at the Las Vegas Convention Center offered members of the hardware/home improvement industry the opportunity to discover new products, network, learn about industry trends and more. Over 2,800 exhibitors and nearly 30,000 industry professionals from 32 countries attended this year's show.
The Show is divided into 15 product categories to help attendees and media navigate through the thousands of products and vendors. It is spread throughout the convention center's North and Central halls, with the Tailgate, Backyard & BBQ category outside in the Silver Lot. Big Kat Buggy® was one of many exhibitors set-up outdoors in the Tailgate, Backyard & BBQ arena.
"This year's Show was very exciting," says Kevin Rackleff, president of Big Kat Buggy®. "We were very pleased to see the number of exhibitors and professionals who attended as it allowed us to showcase our product to a large number of businesses across the industry."
The National Hardware Show® offers a time and place to honor individuals and groups in the industry for their dedication, innovation, success and more.
In its 50th year, Hardware Retailing recognized some of the most innovative products in the industry with the Retailers' Choice Awards. Big Kat Buggy® was awarded the Retailers' Choice Award.
The Game Ball Awards is presented by Tailgater Magazine. With only five categories to receive an award, Big Kat Buggy® was awarded Best Overall Tailgate Product.
"We are very honored and humbled to have been selected as a winner for the Retailers' Choice Award and Best Overall Tailgate Product," says Rackleff. "Our team has been devoted to bringing this product to fruition. Receiving the awards compliments not only our product but every one of the team members who have been a part of launching Big Kat Buggy®."
To learn more about Bik Kat Buggy and available accessories, please visit our website.
Media Inquiries
Stephanie Childs
S&J Marketing Solutions
912.531.0786
s.childs(at)sandjmarketingsolutions(dot)com
###
About Big Kat Buggy®
The Big Kat Buggy makes recreation hassle-free. Load it up with all your camping, beach, or fishing supplies, attach it to your tow hitch and head out. When you arrive, you can simply remove it from your vehicle and roll it to your site. Families and sports enthusiasts love the Big Kat Buggy because no longer do they have to make multiple trips – One Haul, That's All! For more information on Big Kat Buggy, please visit http://www.bigkatbuggy.com.