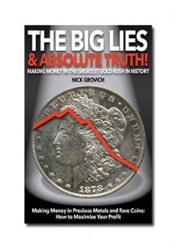 Those buying rare coins really need to educate themselves and do their homework, says Grovich. "If you are buying bullion it is essential to understand exactly what that means."
Carefree, Arizona (PRWEB) August 13, 2013
Gold prices are down. Investment firms are touting rare coins. Consumers struggling with the dilemma of where to put their money are at the crossroads. What to do? Nick Grovich noted professional coin and bullion dealer and author of the free 200-page book The Big Lies & Absolute Truth, has some eye-opening suggestions that have helped make the difference between making profits and losing money in the hard asset markets.
Nick Grovich has been a professional coin dealer since 1980 and owner of American Federal Rare Coins & Bullion since 1985. The company deals in certified coins, high quality, rare date and even common coins as well as all types of bullion and bullion coins. His insider's knowledge of the market and its history has made him one of the country's leading authorities on the coin and bullion market, though it has made him unpopular with many coin dealers. Grovich's book offers numerous tips and truths that are essential reading to anyone who wants to sidestep the pitfalls that trap far too many coin and bullion investors. A widely respected financial expert calls The Big Lies & Absolute Truth "the best book ever on coin collecting and metal investment."
In the book, Grovich warns that rare coins are a complex, specialized market. Many investors believe rare coins to be good investments and bullion brokers push numismatics heavily. However, in many cases, if not most, the seller's markups and commissions may preclude the possibility of a return on investment. The rare coin market has been a tough place for average investors to make substantial gains since 1989. One simple rule Grovich says that anyone considering purchasing or selling coins ask the seller "What's the Gray Sheet on this coin?" The Gray Sheet is actually the Coin Dealer Newsletter and is used by every dealer in the country. "If it's what they use, it should be what you use to help determine value," he advises. His book also lists the seven places you can sell your coins as well as seventeen types of coin you should never buy or hold, in his opinion.
Are coins a better investment than bullion? Are they worth the high price to protect yourself from the possibility of another gold confiscation? Do rare coins move with the price of gold? The Big Lies & Absolute Truth is armed with statistics and data that provide very surprising answers to those questions. Grovich says that over the years he assembled close to three thousand charts comparing various rare and semi-numismatic coins to gold. The charts included rare date , common and frequently promoted coins as well as comparing their performance to gold, silver and traditional investments. Interestingly, his book explains why investing in coins or metal based on fears of economic collapse, inflation and political chaos is a no-win strategy for many investors.
Those buying rare coins really need to educate themselves and do their homework, says Grovich. "If you are buying bullion it is essential to understand exactly what that means. Many investors don't. Bullion simply refers actual gold bars or coins that trade at small premiums over the price of gold or silver and a daily basis. Coins such as US Eagles and Buffalos, Krugerrands and Maple Leafs, to name only a few, are all considered bullion. It does not include coins that have any rarity or collectible value."
Every investor should be concerned about government regulations and tax consequences as well as the possibility of confiscation. The Big Lies & Absolute Truth covers these and other concerns. For example Grovich points out that gold bars are serial numbered and rarely, if ever, need to be assayed. "This is a ploy used by some brokers to lead investors away from gold," he says. "In my thirty years of business, I have never had to have a name-brand gold bar assayed."
Those considering buying or selling rare coins or precious metal can get a free copy of the five-star Amazon-rated Big Lies & Absolute Truth book directly from the author by going on line at http://www.americanfederal.com or calling 800-221-7694. Information on the dates and locations of Grovich's popular nationwide seminars are also available.