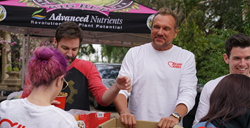 LOS ANGELES (PRWEB) November 26, 2018
BigMike Straumietis, founder and CEO of Advanced Nutrients — the No. 1-selling cannabis brand in the world, has found wild success in his chosen career path, but life hasn't always been so easy. The recent winner of the Best of Los Angeles Award for "Best Cannabis Fertilizer," lived in poverty growing up, and spent much of his time battling with state legislation against marijuana when he first started out. Even though he now sits at the helm of a cultivation-supplies giant he founded, he has never forgotten how it feels to face the threat of homelessness or hunger.
On November 10, 2018, Straumietis got the Advanced Nutrients team together, along with a number of like-minded cannabis industry folks, to provide comfort, food, and aid to the homeless population living in Los Angeles. The 6th Annual Holiday Heroes brigade assembled around 1,500 backpacks filled with personal protection and hygiene items including deodorant, toothbrushes, soap, blankets, first aid kits, and hand-squeeze flashlights, to give to those in need.
The Holiday Heroes was launched by Straumietis in Bulgaria in 2012, handing out packages of food and other critical supplies through door-to-door visits. Today, the organization has served more than 30,000 Bulgarian families. The program was brought to the United States in 2016, when the Advanced Nutrients staff handed out backpacks full of essential supplies to homeless individuals and families in L.A. Since then, Holiday Heroes has grown even further. In Christmas of 2017, the brigade provided more than $100,000 worth of necessary supplies to people in need.
In November of 2018, Holiday Heroes decided to celebrate Veterans Day and Thanksgiving at once by working with the Department of Veterans Affairs to give backpacks to homeless veterans. Additionally, the program delivered much-needed supplies to United Rescue Mission, Downtown Women's Center, Homeboy Industries, United Rescue Mission Hope Gardens, and the homeless population of L.A.'s Skid Row.
"When I first walked through Skid Row, I saw firsthand all the challenges the homeless community faces," explains Straumietis. The business tycoon often went without meals as a child. "I believe a corporation should give directly back to the community that supports it. I've been on the opposite side of poverty, and it's a reason why Holiday Heroes is so dear to my heart."
"Working with the Department of Veterans Affairs to give back to the community on Veterans Day represents a deliberate choice to honor U.S. heroes," Straumietis added. "I have immense respect for the brave men and women who choose to serve our country, and I want to show my gratitude by serving the L.A. community with the resources I have. We can all give something to make life better for others."