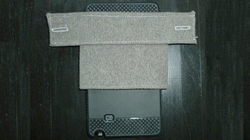 Fitting your big phone into your pocket is easier than ever. Impossible is not an option.
Brooklyn, NY (PRWEB) January 08, 2015
Pocket Extenders, which enables people to fit large phones into tight pants without sacrificing style, has launched a crowd-funding campaign on Kickstarter. The patent-pending Pocket Extender is a button-on pocket that makes it possible for a phone the size of an iPhone 6 Plus or Samsung Galaxy Note to fit safely into the pocket of pants, such as "skinny jeans," which could not normally accommodate such a large device. Proceeds of the Kickstarter campaign will go to expand production capabilities and promote the invention.
"I wanted the convenience of being able to carry my big phone in my back pocket without having to reconstruct my current pants and also without having to sacrifice style," said founder and Pocket Extender inventor Therese Relucio. She invented the Pocket Extender to solve a problem that she was experiencing herself after switching from a Samsung Galaxy S3 phone with a 5.38" inch screen size to a Galaxy Note Edge, which has a 5.6" inch display. "There was no other solution and always carrying a bag, wearing a jacket or men's fat pants was just not an option. Returning my big phone was never going to happen either," she added, noting that she was a fan of both stylish clothes and powerful technologies.
The Pocket Extender solves a growing problem. 80% of new devices being introduced have screens larger than 4.5 inches. When factoring in earphones and the typical phone protective case, it becomes nearly impossible to fit a large phone into most conventional pants' back pockets. Pocket Extenders allow the wearer to extend the lengths of their current back pants pockets between 1" and 2.25". They attach to pants or shorts with the two buttons that are included. After sewing on the two buttons, the Pocket Extender's phone sleeve gets tucked into the pocket.
The Kickstarter campaign will offer 4 options: neutral gray, dark gray, Limited Edition Camouflage and a Special Edition Gold Pattern.
For more information, visit http://www.ineedabiggerpocket.com.
Media Contact
therese(AT)ineedabiggerpocket.com
http://www.ineedabiggerpocket.com
http://www.facebook.com/pocketextenders
http://www.twitter.com/pocketextenders
#pocketextenders
#bigphonelifestyle
# # #