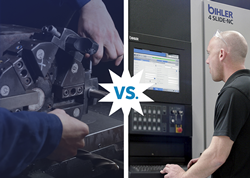 PHILLIPSBURG, N.J. (PRWEB) June 28, 2019
This innovative servo-driven manufacturing equipment from Bihler of America, a leader in complex components manufacturing and automation technology, offers manufacturing businesses a viable and efficient solution in overcoming their daily challenge to deliver increased productivity and profitability. These improvements are made possible due to the increased production run speed, reduced setup and downtime, adaptability and the ability to generate more product with less waste of Bihler 4 Slide-NC.
The 4 Slide-NC features a standardized control system, which integrates seamlessly with any Bihler process module. Given their commitment to providing flexible solutions for customers, the 4 Slide-NC is also compatible with "non-servo" systems, allowing customers to readily integrate the 4 Slide-NC into their existing operations. The future-proof technology is unique in that it allows an organization to maintain or grow profitability by quickly and simply incorporating the modular design into systems that are running existing toolsets.
ADVANTAGES OF SERVO-DRIVEN vs. MECHANICAL
Bihler 4 Slide-NC offers dramatic productivity, performance, quality and cost benefits in five key areas of manufacturing production.
MACHINE SETUP TIME IS REDUCED BY 85%
Servo-driven: 1 hour vs. Mechanical: 8 hours
Machine set up in four-slide manufacturing is known to be a time-consuming process that can take more than eight hours. A timely reduction in setup time for machine prep can significantly reduce the facilities' overall run-time. With the Bihler 4 Slide-NC, new part setups can take less than one hour, adding nearly a full shift worth of time to the production process. Over the course of a year, facilities will recover hundreds of hours of production time and free up valuable setup personnel resources.
THE NEED FOR NEW CAMS IS ELIMINATED
Servo-driven: $0 vs. Mechanical: Up to $5,000.00
The real cost of a new set of cams can be as high as $5,000.00 – a recurring expense whenever a timing change takes place. Bihler 4 Slide-NC has eliminated the need for new cams by offering fully adjustable and programmable timing changes from the touch-screen VC1 Control System. In addition to lowering costs, the timesaving machinery gets rid of the wait time on design, delivery and order processing. The VC1 allows the operator to program individual motion profiles for optimized production processes.
THE PPM RUN RATE IS DOUBLED
Servo-Driven: 160+ per minute vs. Mechanical: 70-80 per minute
Many facilities typically run an average parts-per-minute (ppm) on any given machine in the 70-80ppm range. With the advanced VC1 control module and German-engineered servos, the Bihler 4 Slide-NC doubles the average output of mechanical four-slide machines. To demonstrate this dramatic improvement, Bihler offers validation trials, along with a customer's existing tooling and material, on the 4 Slide-NC at the Bihler facility in Phillipsburg, NJ.
PRODUCTION ANALYSIS AND ADJUSTMENTS MADE THOUSANDS OF TIMES PER SECOND.
Servo-driven: Real-time - VCI Controller, ten thousand times per second vs. Mechanical:
Post-run - machine operator
Advanced, servo-driven four-slide machines undergo an entirely different measure, analyzing inputs and outputs in real-time. The intelligence within the 4 Slide-NC VC1 controller measures and analyzes every process parameter in real-time via sensors on each of the servo drives. It measures distance, torque, and temperature over ten thousand times per second by adjusting automatically, stopping production if needed, and even alerting an operator or supervisor directly on their smartphone or another smart device. This innovative 4 Slide-NC system creates tremendous cost-savings and efficiency by significantly reducing labor, time, defects and material costs. By contrast, mechanical four slides machine operators are forced to measure the output after a part run, make adjustments, then re-run the part to ensure accuracy.
"CLOSE TO FINISH" IN A SINGLE PROCESS
Servo-driven: Addition of standard modules creates a "one-machine" solution vs. Mechanical: Limited stamping and forming tasks
Mechanical four-slide machines are generally designed to only perform a specific set of stamping and forming tasks. Bihler 4 Slide-NC has revolutionized manufacturing by enabling the addition of standard Bihler process modules, creating a "one-machine" solution to a finished product in a single process. All add-on modules are quick additions to any part run with the Bihler 4 Slide-NC plug-and-play programmable system. The VC1 controller is pre-programmed to accept and integrate any of the available modules and is customizable to accommodate more unique specifications. Standard Bihler servo processing modules include Radial Gripper Feed, Presses, Contact Welding, Thread Forming, Screw Insertion, Conveyor Belt, Pick & Place, Lift Rotate…and others.
ABOUT BIHLER 4 SLIDE-NC
Bihler 4 Slide-NC, an independent company, is a joint venture of Bihler of America and Otto Bihler Maschinenfabrik, Germany world leaders in forming, assembly, and welding technologies and machinery for a wide range of global industries. For more than 40 years, Bihler of America has been dedicated to innovative automation solutions for the manufacturing and assembly segments for a diverse range of industries. The 4 Slide-NC technology represents the next generation of 4 Slide manufacturing by combining demonstrated reliability with more intuitive, advanced controls and greater production capabilities for a wide range of applications. For more information and to learn how the 4 Slide-NC can accelerate manufacturing performance and success, visit http://www.4slide-nc.com.
To learn more about Bihler 4 Slide-NC automation solutions, please contact:
Christopher Alexander
National Sales Manager, Bihler 4 Slide-NC
85 Industrial Drive
Phillipsburg, NJ 08865
T: 908-213-9001
F: 908-329-9111
E: calexander(at)bihler.com
For additional press information, please contact:
Ed Delia, Delia Associates
E: edelia(at)delianet.com
T: 908-534-9044