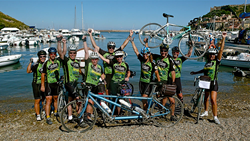 "It was such a great tour I had to do it twice!"-Eli C. Marblehead, MA
Alington, MA (PRWEB) September 23, 2014
From Pesaro to Porto Ercole, travel across Italy like you've never done before. Ciclismo Classico is the creator of the first cross-country cycling tour of Italy, originally designed by Director Lauren Hefferon more than two decades ago. With more than 140 departures and 1,500 travelers served, Bike Across Italy has graced the pages of National Geographic Traveler, Outside, USA Today, and an array of other top-tier media outlets. It is the undisputed champ of cross-country bike tours of Italy. For more information, visit http://www.ciclismoclassico.com/trips/bike-tour-italy/.
"We cycle along rivers, stop at the spectacular Grotte di Frasassi, Italy's largest known caves, and explore Etruscan settlements," said Hefferon. "We wind through fields of poppies, wild broom, and orchids, and enjoy local cuisine you can't find anywhere else!"
Cycling from the Adriatic Sea to the Tyrrhenian Sea, this cultural coast-to-coast cycling tour of Italy passes through four of the Mediterranean's most beautiful regions: Le Marche, Umbria, Lazio and Tuscany, each known for charming hilltop towns, lush landscapes and unique cuisines.
Ciclismo Classico continually researches, scouts, and upgrades its itineraries. The trips are run by both US- and Italy-based staff, and 26 bilingual guides, who combined have many years of active travel expertise, and experience in personalized customer service.
"We are passionate about the bicycle as a means of learning and exploring a region and a culture, and about making cycling accessible to everyone," said Hefferon. "Our tours are 'itinerary driven' meaning that we first come up with the gorgeous, unique, perfectly flowing Ciclismo tour concept and then spend months developing and scouting all of the special Ciclismo amenities, highlights and special events that make up our unique and magical Ciclismo menu."
Guests can secure up to an18% discount for 2015 tours by booking before November 27th, 2014. Call 800.866.7314 for more information.
About Ciclismo Classico:
Join a Ciclismo Classico tour and you'll soon find yourself Pedaling your Passion," a uniquely Italian approach to bicycle travel that embraces La Dolce Vita at every turn and invites you to find your very special passion on every tour. Whether its soaking in the scenery, learning to make pasta, taking hundreds of photos or learning about Renaissance architecture, you'll re-connect with your own passion with our special native guides who connect you to the culture and landscape like no one else can. Ciclismo Classico transforms a European cycling trip into an eye-opening, life-altering adventure youll never forget. Come ignite Your Passion and pedal with us!