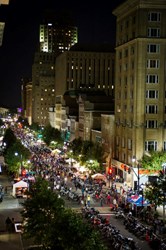 Capital City Bikefest becomes a destination festival for the Raleigh community and for bikers from across the Southeast.
RALEIGH, N.C. (PRWEB) August 30, 2013
Raleigh streets will roar to life once again on Sept. 20-22, during the 9th annual Ray Price Capital City Bikefest, presented by Nationwide Insurance. The family friendly festival takes place in the heart of downtown Raleigh, and at the Ray Price Harley-Davidson dealership on nearby South Saunders Street. In 2012, Capital City Bikefest was named "Best Event" nationally by Dealernews.
"We have numerous bike parades, awesome stunt shows, live music from 20 bands on two stages, food trucks and tons of vendors and other fun outdoor activities for the whole family," said Kris Weiss, director of marketing and promotions at Ray Price Harley-Davidson. "We love bringing the thrill of the open road for thousands of bikers into downtown Raleigh."
More than 100,000 people attended Capital City Bikefest in 2012. This year's events kick off Friday, Sept. 20 with a parade and opening ceremonies. Raleigh Mayor Nancy McFarlane will ride with biker legend Ray Price as grand marshal in the Kickstart Parade, which will feature hundreds of Harley owners and motorcyclists of all ages, makes and models.
Another unique event for adults and children that night is the Parade of Lights, a glowing light show of lit-up motorcycles. Other festivities include Tattoo Fest, stunt shows, a Patriot Ride, bike shows, Harley Owners Group (H.O.G.) activities, and many other festival events that all benefit the USO of North Carolina and the N.C. National Guard.
Live music and food and memorabilia vendors will be key drivers throughout the weekend with two stages for more than 20 bands over Friday and Saturday, including 12 year-old rock star Brooks Paul as well as singer-songwriter Amanda Daughtry, among many others.
Last year's events raised more than $8,000 for USO-North Carolina and the N.C. National Guard.
Interested organizations and businesses can contact Kris Weiss at (919) 832-2261 for information about remaining sponsorship and participation opportunities.
Capital City Bikefest is held in partnership with the City of Raleigh thanks to Ray Price Harley-Davidson, and for the past seven years, presenting sponsor Nationwide Insurance. Recently, it was named the "Best Event" nationally by Dealernews, a leading publication covering the powersports industry. Mayor McFarlane recognized this achievement at a Raleigh City Council meeting in June.
Hundreds of HOG volunteers help put on the North Carolina capital's downtown motorcycle rally. Last year, the family friendly event attracted more than 100,000 participants. Official sponsors include: Curtis Media Group, N.C. Bike Safe, the N.C. Education Lottery, Warlocks Tattoos, The Meat House, Freedom Biker Church, JR Cigar, Gregory Poole, The Oxford, and Gary Poole Motorcycle Attorney.
About Ray Price Harley-Davidson
The Harley-Davidson Motor Company celebrates its 110th Anniversary this year. For the past 30 years, Ray Price Harley-Davidson in Raleigh, N.C., has been a big part of this American history as the Southeast's premier Harley-Davidson dealership. Thanks to a staff with 950 years of combined Harley riding experience, Ray Price provides award-winning customer service and education programs for everyone from beginners to expert riders. Named a 2012 "Top 10 Dealer" by Dealernews, Ray Price maintains a strong commitment to community philanthropy, resulting in more than $100,000 in charitable donations in recent years.