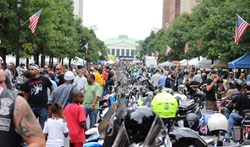 Add it all up and Capital City Bikefest is the destination for a great Raleigh, North Carolina festival, said Mark Hendrix.
Raleigh, NC (PRWEB) September 23, 2014
Downtown Raleigh streets roar to life once again Sept. 26-28, 2014 during the 10th annual Ray Price Capital City Bikefest, presented by Nationwide Insurance. The festival features a wide range of events, including live music, stunt shows, fashion shows, a tattoo festival, and a huge custom bike show, all in the heart of one of America's fastest-growing cities. Capital City Bikefest is the state's largest motorcycle festival, with more than 100,000 people expected to attend. New this year to coincide with the 10th Anniversary, the Ray Price Motorsports Expo will debut inside the Raleigh Convention Center, featuring a custom bike show with $15,000 in prizes.
Must-See Schedule of Events at Capital City Bikefest this weekend include:

Parade of Lights – Motorcyclists light up downtown Raleigh on Friday night with uniquely glowing bikes.
Custom Bike Show – A competition of extraordinary custom bikes with professional builders matched against hobbyists to take home $15,000 in prizes. Popular television shows from "Biker Battleground" (History Channel) to "Biker Live" and "Biker Build-Off" (Discovery) have fueled the customization rage. Visit the Motorsports Expo to see this showcase of phenomenal paint, polish, powder coating, chrome, body and electronics customizing skills. Some of the bike builders confirmed: 40 Cal (Alcoa, Tenn., featured on Biker Live), Butcher Chop (Dry Fork, Va.), Crazy Beavers Customs (Clayton, N.C., featured in Road Iron), Cyclone Cycles (Houston), Gangster Choppers (Richmond, Va.), Garwood Custom Cycles (Lexington, N.C., featured on Speed and MTV), Holy City Designs (Summerville, S.C.), Ludwigsen Motor Co. (Stedman, N.C., featured in Roadracing World), KW Customs (Angier, N.C.), One Time Customs (China Grove, N.C.), T-n-A Customs (Sanford, N.C.), Vindictive Wayz (Rutherfordton, N.C.), Widowmaker Custom Design (Rougemont, N.C., featured on Biker Live), and many more.
"Live" Custom Bike Build by Ray Price Performance – See a bike built from the frame up in three days! It will tour with Kangaroo Express' "Salute Our Troops" campaign next year and be brought back for the 2015 Bikefest to be raffled off for charity.
More than 20 live bands playing on three stages, indoors and outside. All music is free. Performances by 13-year-old rocker Brooks Paul, and upcoming country artist Amanda Daughtry.
1000 HP Nitro Drag Bike – Ray Price Motorsports Racing Team is currently in first place in the NHRA drag bike standings. Fans come from all over to meet the legend and hear the engine roar of the world's fastest naturally aspirated motorcycle.
Tattoofest – More than 75 tattoo artists will showcase their talents live.
Pin-up Contest – Check out the 1940s rockabilly and garage-style Pin-up Contest, winners appear in Dames, Planes & Automobiles Magazine.
Stunt Shows – Some of the world's greatest stunt riders will thrill audiences with amazing BMX bike and motorcycle feats. "Godfather of freestyle," Jason Britton, the world's most highly recognized stunt rider will perform all weekend. Britton is known for Hollywood stunt work in films such as "Torque" and his own Speed Channel TV show. Plus, the Globe of Death with Insane Obando Riders, Adam Holbrook, Keith King, Strongwoman Juli Moody and many other stunt artists performing indoors and outside.
"Add it all up and Capital City Bikefest is the destination for a great North Carolina festival, and a huge visitor weekend in Raleigh for bikers from across the Southeast and along the East Coast," said Mark Hendrix, general manager of Ray Price Harley-Davidson and Ray Price Triumph, the organizer of Capital City Bikefest.
Capital City Bikefest was formed in 2005 in partnership with the City of Raleigh to become North Carolina's largest downtown motorcycle rally, held in Raleigh's Moore Square. The next year, it became the first festival created by a local business to bring a fresh roar of life back to newly re-opened Fayetteville Street, attracting 65,000 attendees. Named the nation's "Best Event" by powersports industry publication Dealernews, Capital City Bikefest celebrates its 10th anniversary this year with annual attendance estimated at more than 100,000 visitors. Activities this year benefit the nonprofits USO of North Carolina and U.S. Veterans Corps. Ray Price Capital City Bikefest has been presented by title sponsor Nationwide Insurance for the past eight years.
Follow the festivities on Twitter: @RayPriceHD and #BikefestRaleigh.
For more than 30 years, Ray Price Harley-Davidson in Raleigh, N.C. has served as one of the Southeast's top motorcycle dealerships and is home to Hall-of-Fame racing legend Ray Price.