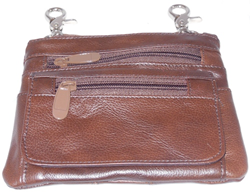 Biker Bag in Serious Brown so that guys and gals can simply attach their essentials to their belt loops and off they go!
Boise, ID (PRWEB) June 24, 2014
Nifty-Nifty.com, makers of 'As Seen on TV' hands-free fashion accessories, including Phubby the Wrist Cubby, Cell-Fie Hipband Cellphone Holder, and Specs-In-A-Sec Magnetic Eyeglass Holders, is pleased to reveal yet another new sensation in their ever-evolving roster of must have items, The Best Biker Bag in Serious Brown.
"This stylishly sturdy unisex Biker Bag has been available exclusively in Black," states Nifty-Nifty co-creator, Wendy Miller, "and due to its popularity, we decided it was time to make it available in another super cool neutral, which can be easily worn by women and men alike. As such, The Best Biker Bag in Serious Brown was born."
Learn more about Nifty-Nifty.com's Best Biker Bag here:
*http://www.nifty-nifty.com/biker-purse-best-serious-biker-purse/
The Best Biker Bag, a durable, 3-pocket, compact carry-all, can be worn as a cross-body bag or as a hip bag, clipped directly to the belt loops, for comfortable, easy access to one's cell phone, wallet, passport, keys, and other important items. Two pockets are secured with zippers, while the third boasts a super strong Velcro closure.
Three compartments mean staying organized on the go, and avoiding nasty cell phone screen scratches (not to mention missed calls). Perfectly sized, and far more convenient than carting around a large, bottomless handbag. The Best Biker Bag in Serious Brown is truly the best option for fashion savvy guys and gals alike, bike or no bike.
About Nifty-Nifty.com
Nifty-Nifty.com is the world's leading online retailer of innovative, nifty products. The company specializes in online retailing of products such as the Specs In A Sec Magnetic Eyeglass Holders, Phubby, Cell-Fie HipBand Cellphone Holder, Biker Purses, Cross Body Cell Phone Purses, and other innovative online products at the best prices with no charge shipping in the USA and Canada.
http://www.Nifty-Nifty.com  Tel: 858-248-2302