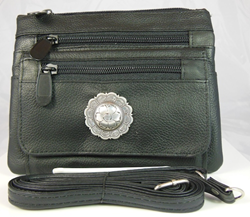 Not surprising that this durable little hipster's appeal is wide spread!
Miami, FL (PRWEB) November 06, 2014
Best Serious Biker Purse with Concho, by fashion-accessory trend-setters, Nifty-Nifty.com, is a quickly becoming a favorite among both city dwellers and country folk.
"We at Nifty-Nifty.com are extremely pleased with the widespread appeal of our new Biker Purse with Concho", explains Nifty-Nifty.com co-founder, Wendy Miller. "Not that we're surprised; it's a great looking, durable little bag that's equally suited for a motorcycle jaunt down the highway or a ride on the range."
Discover Nifty-Nifty.com's Best Serious Biker Purse with Concho, here:
*http://www.nifty-nifty.com/biker-purse-best-serious-biker-purse-with-concho/
The genuine leather Biker Purse with Concho measures approximately 7 inches across and 5.5 inches high, and has a total of three separate compartments (2 zipper, one Velcro), to keep all one's belongings secure and organized on the go.
This trendy cell phone carrier, which is available in a number of eye-catching Concho designs, comes complete with an adjustable shoulder strap, as well as two sturdy chrome hip clips, which attach to directly belt loops, for maximum versatility.
With Nifty-Nifty.com's Best Biker Purse with Concho, consumers are able to carry all their small belongings, such as cell phone, passport, keys, wallet, even horse treats, with ease – and look great doing it, too!
Say goodbye to boring old handbags and has-been Fanny Packs! Nifty-Nifty.com's new Biker hip bag with Concho is cool, user friendly, and quite frankly, the best purse for each and every riding endeavor.
About Nifty-Nifty.com 
Nifty-Nifty.com is the world's leading online retailer of innovative, nifty products. The company specializes in online retailing of products such as the Specs In A Sec Magnetic Eyeglass Holders, Phubby Wrist Cellphone Holder, Cell-Fie HipBand Cellphone Holder, Biker Purses, Cross Body Cell Phone Purses, and other innovative online products at the best prices with no charge shipping in the USA and Canada.
http://www.Nifty-Nifty.com
Tel: 858-248-2302